2018 Miami verbal is "90%" solid to the 'Canes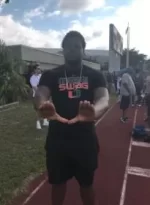 After his recent transfer from Miami Killian High School to Miami Southridge High School, 2018 lineman Delone "D.J." Scaife is ready for next season.
"I expect to go back to states again, that is every team's goal."
Scaife is ranked as the 11th best offensive guard in the nation on ESPN.com, and is "90%" committed to the Hurricanes.
Scaife views himself as an "aggressive lineman", and has developed a great relationship with Miami Hurricanes offensive line coach Stacy Searels since they met at a camp.
"One of my former teammates called me to go to the camp because they were looking at me," Scaife said. "I went to a junior day, and then I went to another junior day the next week, and he offered me -- we have just had a connection ever since."
Scaife is also hearing from Florida, Florida State, and Georgia, but is currently all Miami as he repped 'Canes gear at the Florida Fire 7 on 7 tryouts. His size and intangibles hint at potential early playing time; but although he wants to play early, Scaife says the most important thing to him is developing as a player on the college level.
"It is very important but that's not really my mindset," Scaife said. "I just want to go there and get developed, I just don't want to say 'Oh i can start for this school' because it's not gonna be that way all the time, it's college."
"Playing early is good, but it is not my mindset."
Scaife believes Miami will have a good year in their second season under Mark Richt, and sees the offensive line improving as well.
Scaife will enter Miami Southridge High School and take over for a line that created space for Bentavious Thompson in 2016, and will look to continue raising his stock during his senior season.