2018 DE Charlton had huge production last season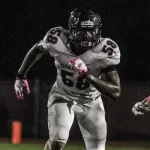 On the way to their 8A state title run, the Southridge Spartans displayed a historically great defense that included a stretch of 8 straight shutouts and allowed a total of 48 points in their 14 games. The unit was led my a fearsome pass rush group consisting of 2017 linemen Dimitry Prophete and DeAndre Johnson, and 2018 prospects Randy Charlton and James Head, Jr.
[HUDL]video/3/4754678/583ce3c7dfd8b82ef0d6ef69[/HUDL]
Charlton said he accumulated 109 tackles, 15 sacks, 1 interception, and 3 pass deflections last season. As Southridge reloads, the 6-4, 225-pound edge rusher knows that this offseason is all about adding to his frame. Charlton could even project as someone who plays multiple spots on defense.
"I'm just focusing on the weight room, getting bigger and better now during the spring," Charlton said. "I'll be back doing drills closer to the season."
"I see myself probably switching between playing linebacker and defensive end. I can be a stand-up linebacker, it's really just about practicing coverage."
In addition to football, Charlton plays basketball and competes in both shot put and discuss. He believes these other sports help him on the football field.
"It translates. Basketball helps me with my explosiveness with all the jumping. St out and discuss helps with my arms and push-and-pull," Charlton said.
The junior defender holds offers from Nebraska, Mississippi State, USF, UCF, and FAU amongst others. He said he hopes to pick up in-state offers from Miami and UF as well. Charlton expressed excitement in Miami hiring David Cooney as an offensive quality control coach. Cooney was Southridge's offensive coordinator last season
"Coach Cooney is the man. There's a lot of kids that he helped get college offers and he helped us to see that we could take our career to another level," he explained.
Off-season plans for Charlton include playing 7-on-7 football with the Florida Fire, UF junior day on March 24th, and visiting Miami's campus some time "real soon".