2018 ATH Shivers is an electric prospect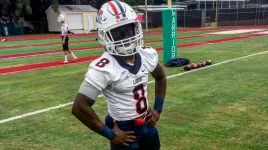 Year-in and year-out, South Florida is home to some of the most unique and dynamic football prospects in the country. 2018 Chaminade-Madonna ATH Shaun Shivers (5-7, 170) falls into both of those categories.
Although he is one of the smaller players on the field in most games, Shivers' running style has landed him upwards of 20 offers and he is only entering his junior season. Shivers plays running back for the Lions in their pro-style system.
"I'm a downhill runner. I would say I have both speed and trucking ability," Shivers said. "There's a lot of people surprised that I can run the ball like I'm 200 pounds, even though I'm 170. I always feel like I have a chip on my shoulder and that people try to underrate me because I'm small, but I can play with the best."
Out of the offers that Shivers has received, he says that Auburn, West Virginia, Virginia Tech, and South Carolina are the programs showing him the most interest. Just last week, another school's offer caught him off guard.
"I was surprised when I got the TCU offer because they don't really recruit Florida. Most of their team is from Texas. I am excited too because I know there could be a lot more offers coming my way after the season," he said.
Despite the attention from out-of-state schools, Shivers has not heard much from the Miami Hurricanes.
"They haven't shown me love. They haven't talked to me yet," said Shivers. "I'm open to anyone though because I know more offers are coming in. So I haven't closed that option (Miami)."
Shivers has not completely closed the door on the Canes and had some positive words about his thoughts on the future of the team.
"I saw half of their spring game. I think Coach Richt is changing it up and making the program a lot better," he said.
Shivers explained that a major factor in his recruitment will be his relationship with close friend and teammate, Xavier Williams, a 2018 wide receiver who Miami has offered.
"We are real serious about playing together because we have talked about it since we were young and now we have a lot of the same offers coming in, so it's something we are really going to have to talk about," Shivers said.
[HUDL]athlete/4068640/highlights/301061465[/HUDL]