2016 RB Moss making a name for himself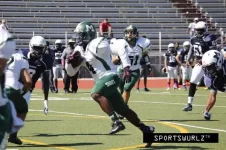 Early last month, 2016 Mater Academy RB Zack Moss traveled to San Antonio for the Army All-American combine. The junior posted some solid numbers at the combine with 19 reps of 185-pound bench press, a 4.3 shuttle run, a 4.6-40 yard dash on slow turf, and a 32-inch vertical jump.
Moss checks in at a stout 5-10, 207-pounds and is one of the more well rounded backs in Dade County.
"I'm the type of back that can do whatever you ask. I can come out of the backfield to make a catch, I can get in-between the tackles, I have the speed, and I can break tackles," Moss said.
Moss switched from linebacker to running back during his sophomore season and the Army combine was an opportunity to him to gauge where he stacks up amongst the elite.
"Being able to go against guys from all over the country was good because I was able to see how I could compare with them at the next level."
Moss says that Arizona, Missouri, Kentucky, USF, West Virginia, and Miami have reached out to him in the past few months. The Canes have caught his attention.
"Miami is sending me mail and on Twitter I've talked to Coach (Ice) Harris a few times recently."
Although some people believe that Miami fans have been "scaring away" potential recruits, Moss enjoys their passion for the program.
"You've got to just love the fans. Everything is great about The U. I see their hard work and dedication to get better every year."
Familiarity and comfort level seem to be high on Moss' list when looking at schools.
"I want to be able to adapt to the environment around me and I want to have the opportunity to play early."
His goal for the offseason?
"I want to work on my vision and being able to get to the holes faster."
Moss will be playing with the Florida Fire North 7-on-7 team over the next few months.
Junior Season Stats - 80 carries, 680 yards, 10 TD (missed 3 games)
Zack Moss Sophomore Highlights -
http://www.hudl.com/athlete/3119301/highlights/180201381/v2