2016 QB Allison Ready for Elite 11 Experience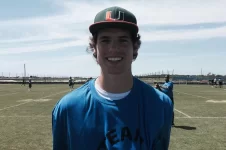 2016 Palmetto (Fla.) quarterback and Miami Commit Jack Allison may have all the statistics and ratings a recruit could ask for. However, he's looking to prove his greatness this weekend at the Elite 11 event in Columbus, Ohio.
Allison is excited to compete with some of the best quarterbacks and can't wait to show off his skill set.
"I'm just trying to get there and win it. It's cool to be able to compete against all the best quarterbacks in the nation, just to finally meet them."
The Elite 11 has had quite the alumni of quarterbacks including Andrew Luck, Jameis Winston, and even current Hurricane Brad Kaaya. Allison is looking to join those great names by showing off what his arm can do.
"It's really cool because growing up all my life I've seen the Elite 11 and I've always watched it and just to finally about to be in it, it's a surreal feeling."
The 6'4 190 pound pocket passer received two invites to different all-star events: The US Army All-American game and the Under Armour All-American game.
While Allison is likely to attend the Under Armour All American game, he cherishes both invites and is humbled.
"Growing up I would always watch those games and you hope that you can play in those games one day, but to be actually be invited is a sign to show that all the hard work is paying off."
The Hurricane pledge intends on making it down to Miami for the Al Golden Football camp during June. While on campus, Allison always seems to enjoy himself and looks forward to speaking with current players.
"Talk to the guys on the team and get to learn more about the program. Every time I go down there I end up falling in more love with it so I'm excited."
Allison remains firmly committed to the Hurricanes and plans on being an early enrollee. The most valuable aspect from arriving to Coral Gables early for Allison is getting a feel for what the college football life is like.
"I'm taking an online class right now, so I can finish up and be able to graduate early," said Allison. "It gives you a huge head start and allows you to get familiar with the guys and coaches."
While Allison is eager to compete with the current Hurricanes already, he's also excited to learn under current quarterback Brad Kaaya.
"When I talk to him he seems like a really cool dude and a really good football player. I'm excited to be a freshman and just sit under him and learn."
Allison has no other visit plans at the moment.