12/7 Recruiting Update, The Richt Era Begins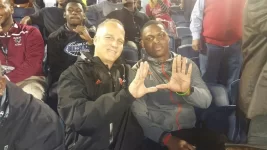 #RichtGang
It's a lot. Enjoy.....
For anyone living under a rock for the past few days. Mark Richt wants to run a 4-3 Cover 2 at Miami.
I mentioned on Friday that Richt was having one on one meetings with everyone on the staff. I also mentioned Coach Coley was being offered some kind of role. I heard apparently that the conversation didn't go so well Friday night. Pete confirmed on Saturday that they did meet Friday and they were meeting again Saturday.
I can only assume it is for a role for anything from a CO-OC down to a QB coach or passing game coordinator in name. Richt wants to call plays, which has been well documented.
Pete mentioned Jon Richt from the Bills, Mark Richt's son, will be on the staff in some capacity.
Richt is believed to have interest in bringing John Lilly and Tracy Rocker from UGA to Miami.
One major thing I wanted to point out from Mark Richt's opening presser, was how he mentioned what he envisions for a football camp. Dawg Night at UGA under Richt was always a great success. Unlike Miami's camps under Golden. I expect Miami's football camp to improve a lot under Richt's watch. Expect "actual local sleepers" or up and comers in classes ahead to emerge more often under Richt's eye first.
I hope Richt, Darrow, Blustein and Adidas will put together another South Florida Shootout. The very successful 48 team, 7on7 event at UM last offseason. MUST happen again, great tool for recruiting and keeping an eye on prospects under the radar. I strongly suggest for people here to make it out to the event, if another one happens this off-season.
Richt has already got to work as early as Thursday. On his plane ride over to South Florida, he was already watching film and evaluating current players and commits.
Mark Richt has been recruiting since Friday afternoon after his opening presser and interviews. Blake James said he would be cleared by compliance on Friday.
Richt spoke with 2017 Miami RB Commit Robert Burns at Miami on Friday and it went well.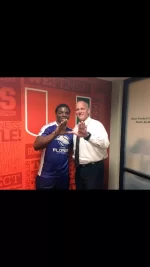 Richt, Hurlie, Ice and Shaq also made their way to see Michael Pinckney in his state finals game vs. Booker T. Washington. Richt was very well received by people in the stands and was interacting with everyone.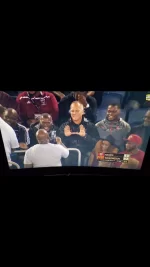 Michael Pinckney at bare minimum should be a 4 star prospect. I've stressed it before, and I'll do it again. The recruiting services have severely underrated this kid. Huge game for Pinckney in his final HS game. Racking up a load of tackles, FF, and an interception. He may not be as advanced as Shaq or the freak that McCloud is, but he's a great LB. Miami will truly start fixing LB depth when the trio gets here in January. We have another LB commit in 2017 from Jacksonville who's severely underrated as well. In Aundre "Rico" Kearney who played a big part in leading Mandarin to their best record in school history(13-1), but we'll save that for another day.
Richt also stopped by Mandarin and spoke with Kearney. Two prospects to watch out for from Mandarin are 2017 S Devinn Waters and 2017 WR Antonio Spooney. Both want to join Kearney at the next level at Miami.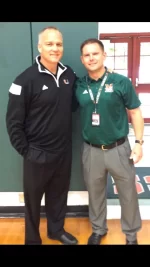 Would like to point out four individuals to keep an eye on from Booker T. Washington in the future.
Three 2018 LB's, by the names of Jaquan Beaver, Robert Hicks, and Marlon Pelote. Remember those names very well. Beaver and Hicks already hold offers from Miami, and I expect Pelote to receive one as well. Larry Blustein believes these three, will be one of the best group of Linebackers on any HS team nationally come 2018. Beaver and Pelote transferred in from Miami Northwestern prior to the season. Hicks transferred in from Norland prior to the season.
The other to keep an eye on is 2019 QB Daniel Richardson. True freshman QB, leading a depleted Booker T. Washington roster to a state title. I came away impressed with him in his first HS game earlier in the year against STA.
I expect Booker T to get back to losing 1 game at minimum, or no games at all by next season again. Lot of talent in the underclassmen on that roster.
#Dynasty
There is rumors floating around that Georgia's top 5 nationally rated RB commit, Devwah Whaley. Apparently he has interest in following Richt to Miami.
With that said, I would keep an eye on Miami RB Commit Jawon Hamilton from South Dade. Scott Frost and UCF are making a hard push for him to flip.
A lot of people are interested to see if Georgia's prized 5* QB commit Jacob Eason will follow Richt to Miami. Eason has a visit scheduled for this weekend to UGA. Unless he changes that visit to Miami, I don't expect him to come here due to the fact he's an Early Enrollee. As well as the recruiting dead period begins Dec. 15th.
Most recent update on Jacob Eason situation, from our very own staff writer Tito Benach in the link below.
-
https://www.canesinsight.com/thread/jacob-eason-update-12-6-a/94989
There are 5 legitimate DTs in the state of Georgia. Two are currently committed to UGA. I'm not saying anything or assuming anything, but I know everyone here likes DT's.
I mentioned early Thursday evening on twitter, that I was told good news regarding a few prospects visiting on the 11th.
Let's dive straight into that.
Jack Allison (Miami)
Patrick Bethel
Jamel Cook (FSU)
Zach McCloud
Michael Pinckney (Miami)
Shaquille Quarterman (Miami)
Jordan Woods
Now let me pull three important names out for very good reason.
Bethel, Cook and McCloud.
I was shared something, with someone very close to McCloud situation the day of his decommitment. That had me inclined towards believing he would return.
It has come to fruition. McCloud canceled his in-home visits with both Auburn and Ohio State when news of Richt being coach hit the media. He has cancelled all of his other official visits except for Miami.
Why?
Zach McCloud wants to commit to Mark Richt in person on his official visit this weekend. Thank both Shaq and Mike for staying in constant contact with him, as well as coach Hurlie Brown.
Barring something catastrophic. Zach McCloud will be a Miami Hurricane.
Mark Richt, Hurlie Brown, and Larry Scott met with Zach for an in-home visit on Sunday.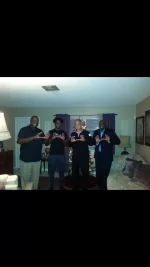 Patrick Bethel, why did I single him out? A Cane legacy. Why does Richt play a factor with this one? Bethel's family are very conservative Christians, Patrick's father Randy has sat back a little in his recruiting process. Not going to assume here but Richt religious beliefs and his values can play a factor here. Something the Bethel family is looking for in a school. I have been told as well as Peter Ariz mentioned last night, that the in-home visit with Bethel went very well Sunday. Prior to Richt being hired, things were not looking our way. He is enrolling early, so it would be key for Richt and the Canes to lock this one up.
[URL=https://www.canesinsight.com/usertag.php?do=list&action=hash&hash=Cane]#Cane
s[/URL] have a great shot with this one.
Jamel Cook. I mentioned him in my previous update of being a likely candidate to flip. Things have went a little south with that. Cook's teammate and 2017 Cane LB commit Waynmon Steed, believes Cook "is all FSU" according to a recent interview with Caneshades Radio. Not saying there is no chance here but I am not as confident as I was a few weeks ago, despite having a family member being employed by Miami. He is visiting though and I was told a flip can still happen.
[URL=https://www.canesinsight.com/usertag.php?do=list&action=hash&hash=Cane]#Cane
s[/URL] have a legitimate shot with this one
Jordan Woods. I do not expect him to come here. Source close to his situation has told me, "he will be following Freddie Swain to UF."
Jack, Mike and Shaq will be
[URL=https://www.canesinsight.com/usertag.php?do=list&action=hash&hash=Cane]#Cane
s[/URL] as expected.
Another visit date I'm going to point out is January 15th. 3 key visitors I'm pointing out. There are others that day but I don't think there is a shot with the others.
Ahmmon Richards
Josh Uche
Malek Young (UGA)
Ahmmon Richards. Mark Richt is making a big push for Ahmmon. Despite reports, Ahmmon is wide open at the moment. It was believed Alabama led at one point and Auburn recently. His parents play a big factor in this as they have been very involved with his recruitment. His father is a big Canes fan himself. His parents liked Golden, that played a factor in him opening things up. Ahmmon and his parents also like Richt. Miami is very much in the mix here and can emerge as the leader with a good pitch from Richt. They want him to stay close and he does as well.
[URL=https://www.canesinsight.com/usertag.php?do=list&action=hash&hash=Cane]#Cane
s[/URL] have a very good shot, this went from a gloom situation to a good possibility very quick
Josh Uche, I know the situation I explained a few times before with him and the whole UF thing. Apparently Uche is willing to listen to Richt.
#Still
don't feel confident with this one as I've been told he has been looking to get away from Miami
Malek Young. This is one is very interesting and has caught my eye. The moment Richt came to light in the media, Young scheduled an OV immediately. It is expected that he will flip from UGA to Miami. Miami recently visited Coconut Creek as early as last week as well.
[URL=https://www.canesinsight.com/usertag.php?do=list&action=hash&hash=Cane]#Cane
s[/URL] have a great shot at the flip (I saw him live at the South Florida Shootout, best two way player at the event. Best pure football player on Coconut Creek roster as well.)
Two more important recruits of note. No scheduled visit dates yet but definitely keep an eye on.
Binjimen Victor, I have been told was waiting to see who Miami would hire as coach. Victor has a good relationship with Richt from prior visits at UGA and contact. Richt will make a strong push to get Victor to Miami. Miami is in the hunt to land Victor now.
The other is Trayvon Mullen. It is believed that LSU and FSU are the favorites here. I was told a while back that he would reconsider Miami if they had a different scheme, apparently he also grew up a Miami fan. He also has prior contact with Richt at UGA. It wouldn't hurt to push for him, and sell playing together with his teammates in Miami if Richt were to flip Young and land Victor. As well as playing time at CB early on.
Keep an eye on Keir Thomas from Miami Central. It is believed if Miami were to make a push that he would probably commit. Auburn remains the favorite at this moment.
Last week I mentioned "As with any new coach. Expect some kids to be dropped. Not '17 or '18, those are fine, but some questionable in '16"
There are a select few who I believe in the '16 class are not Miami caliber. I will not get into that here but guess and debate at your own will.
Now on the other hand. The 2017 and 2018 classes. Personally, I feel they are Miami Caliber through and through.
Now, on to grade casualties?
JaQuwan Nelson has grade concerns.
I am still very doubtful Reginald Henderson will be able to qualify. Richt is pushing hard for Ahmmon Richards and Binjimen Victor as I mentioned earlier.
At the moment Deion Jackson is one that I am very worried about and have a major doubt he might even make it in. He is one who we really need to keep as Pete mentioned the other day. He is a tad underrated due to not playing last year. Prior to Hallandale getting into the playoffs, Deion got up and left Hallandale and moved to Jacksonville. This is not the first time he has up and moved and left Hallandale. I have been told through a close source there is grade concerns and possibly some legal issues. I will not dive further into that, as it is a private matter.
I know everyone is wondering about Dionte Mullins. I have met the Mullins family formally. I have been told that his grades have been improved and they expect him to make it on campus.
2017 Killian RB Commit Bentavious Thompson, will NOT be reclassifying to 2016.
- Other things to keep an eye on
I have been told 2017 CB Trajan Bandy from Columbus, would have Miami as the favorite if they were to offer. I expect under Richt now, that offer will be on the way. A former LB in Little League actually.
#Big
hitter
Miami is in a good position to get 2018 CB Al Blades Jr. commitment back.
With Mark Richt now at Miami. I would keep a very close eye on 2017 Carol City LB De'Andre Wilder even more. Miami has been in the lead for quite some time now for Wilder. Richt was pushing very hard for Wilder and at one point UGA was his leader. Wilder looks up to a lot of the Carol City greats who went to Miami such as Santana, Kenny, and Allen Hurns. His father is also a poster on CIS.
[URL=https://www.canesinsight.com/usertag.php?do=list&action=hash&hash=Cane]#Cane
s[/URL] are sitting good with this one
2017 OL Commit Navaughn Donaldson from Central, has a very good relationship with Mark Richt. I was told through a close source, prior to Donaldson committing he was down to Miami and UGA. He was very close to picking UGA because of Richt but Miami medical school and closeness and the home team factor won out. Donaldson mother is a big fan of Richt. Donaldson also bear hugged Richt when he offered him personally at Dawg Night at UGA
#Safe
to say, this commitment is a very solid one.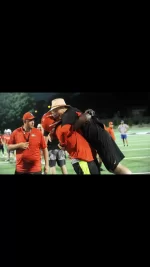 I mentioned in my previous update that Miami had two silent commitments. One was from West Palm Beach, who is waiting to talk with Richt in person and officially commit.(You have probably figured who it is by now, he's well worth the wait.) The other was a RB we were recruiting for a long time. I mentioned that I wasn't sure if his offer would stick, depending on what the new coach wanted. He committed to UCF just the other day and I was told "Frost made him a priority from day one and the fact of not being guaranteed an offer at Miami after Golden was fired hurt us."
Cedrick Wright is taking visits but from what I have been told. Nothing to worry about. He is solid. I wanted to mention some people under appreciate him a bit. This is a kid who Urban Meyer wanted a lot, and holds the 59th most offers of any kid in the country. He improved in his pass coverage as a senior. His best fit is a SS come up into the box type or nickel/safety role. Big hitter and a pure football player, knows where to be. He brings value in the return game and as a special teamer. There is a reason why he was selected to the All-American game. Not many people know this, but Ced and Sam Bruce were the first freshman to ever play on South Florida Express Team. Sam was the first 8th grader to ever play on
#SFE
.
There is a very prominent player next year who is originally from South Florida. Who plays at a powerhouse in Bradenton, that is looking to come back to Broward County at another power house school that has
#Cane
commitments. He was going to announce for Miami during the summer but held off, Miami is still in the lead with OSU trailing. He is also an internet sensation. Not going to spoil it but if you can put things together, you'll figure it out.
Stacy Coley is leaning towards returning another year at Miami at this moment. Coley would be a very big piece for Richt to have return and would be the focus in the pass game again next season. Coley's 8 game split for the season starting from FSU game onwards marks as one of the top 3 receivers in the ACC. Coley practically missed the whole first 4 games, a 1k season was easily in reach. It would be a smart move to return and be Richt's go to receiver next season in the offense.
Check out former Cane and Miami Central Head Coach Roland Smith, throwing up the U with 2016 Miami ATH commit Tyler Byrd from Naples.