Joined

Jun 12, 2012
Messages

11,780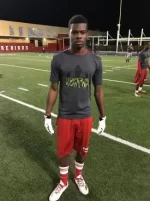 (Brieon Fuller
)
The first annual NGHTMR 7-on-7 tryout took place at Doral Academy Prep last night and CanesInSight was in attendance. Here were some of the top performers and other names to watch from the event. Recruiting updates with some of these prospects will be posted this week as well.
2018
Demetrius "D.J." Ivey - South Dade
Miami found a gem last summer in South Dade cornerback D.J. Ivey and he continues to prove them right for offering as early as they did. Ivey missed his entire junior campaign with a foot injury so the offers from elite program have not come yet, but look for that to change very soon. Ivey's length is his strongest asset to go along with extremely smooth hips for his size. At 6-1, 185, the Canes commitment has all the tools to blossom into a star -- Ivey has even picked up the moniker "Young Artie" as in Artie Burns, because of his physical resemblance to the former Miami corner and current Pittsburgh Steeler. He says his commitment is solid as well.
[TWEET]820124979287195648[/TWEET]
Divaad Wilson - Miami Northwestern
Wilson is a recent transfer from Pace to Northwestern who opened eyes at the South Florida Express tryouts last week and proved again last night that he is about to get flooded with offers. He played both sides the last two seasons, but Wilson said last night that he plans on focusing on just cornerback this spring. His size and makeup speed jump out at you. There was one play that Kalani Norris beat Wilson deep before the 6-foot, 185-pound athlete got back into the play and batted the pass attempt away. Wilson holds offers from Louisville and USF, but both Miami and Florida are tracking him hard. Mike Rumph and Ephraim Banda are leading his recruitment and are stopping by Northwestern next week, according to Wilson. He lit up when talking about Banda as a recruiter and Wilson added, "He was on Twitter bumping Kodak and I was like 'oh my gosh'. That was so funny."
[TWEET]820144162632794112[/TWEET]
Johnny Ford - Coral Gables
Arguably the most entertaining performer on the night, Johnny Ford is lightning in a bottle. His size (5-8, 170) is something that catches people by surprise, but Ford is a top notch running back with speed to burn when the pads come on. Last night in one-on-ones, there was not a defensive player who was consistently sticking with him -- it was unfair at times. With offers from FIU and FAU already in hand, there will be more on the horizon for the electric Ford, who will be an offensive weapon at the next level.
[TWEET]820133726663430145[/TWEET]
Billy Joseph - Edison
Joseph is a recent transfer from Northwestern to Edison. He was a commit to Al Golden and staff at Miami, but is currently committed to Lane Kiffin at FAU because the Canes have not been recruiting him. Prior to this past season, Joseph had primarily been used as a speed rusher off the edge, but Northwestern coaches played him at Mike linebacker this season with much success. Joseph looked good in coverage last night considering he is still making the transition to linebacker full-time.
[TWEET]820312142725476352[/TWEET]
Derrick Nicholson - Miami Northwestern
Nicholson was one of the most vocal players at the NGHTMR 7-on-7 tryouts and brought some physicality to the 1-on-1 portion of the night. He does not hold any offers right now, but I'm excited to track Nicholson this offseason. He played a key role in Northwestern's defense this year as a box safety/linebacker.
2019
Brieon Fuller - Doral Academy Prep
"Manchild" is the word that multiple people used when talking about Fuller at the tryouts last night. He was the most physically dominant player in my opinion and he had the highlight of the night in 7-on-7 play with his leaping touchdown grab in the back of the end zone. It is no surprise that he holds offers from Miami and Georgia already with Canes WR coach Ron Dugans in communication, as well as UGA coach James Coley.
[TWEET]820137633963802624[/TWEET]
Kalani Norris - Christopher Columbus
Norris transferred from Westminster Christian to Columbus a few weeks ago and will certainly be a top player at his position for his class. The 5-11, 180- pound receiver is one of the best route runners in south Florida regardless of class and that was on display last night. The best word to describe him is "smooth" and the offers will continue rolling in for him as his body fills out.
Demetries Ford - Christopher Columbus
Dee Ford might not catch your attention at first glance (5-9, 170), but once the action starts there is no denying his talent. The younger brother of Johnny Ford, Dee is a twitchy athlete with a competitive edge that is reminiscent of a young Trajan Bandy. He did not allow a reception during the one-on-one portion of the tryouts and I'm excited to see how Columbus uses the Westminster Christian transfer
[TWEET]820130010702999552[/TWEET]
Jeramy Passmore - Christopher Columbus
"P-Moe" is already on Miami's radar as a pass rusher, but last night he was trying his hand at linebacker in pass coverage drills. It was evident in one-on-ones that he hasn't had any work in coverage over his first two seasons of HS football, but the 6-2, 235 defensive end is looking like a premier prospect with a ton of room to grow -- he turns 16 on January 22nd. Canes coaches invited him to work with the upperclassmen at Paradise Camp last year and he more than held his own. This will be a huge spring for him.
[TWEET]820303001755619329[/TWEET]
Other names to watch
2018 RB Trey Flowers - Miami Palmetto
2018 DB Sharod Oliver - Miami Northwestern
2018 CB Rachad Wildgoose - Coral Gables
2018 WR Quavon Beckford - Miami Northwestern
2018 WR Kiondae Wilson - South Dade
2018 QB Harrison Easton - Westminster Christian
2020 RB Shemar Paul - Doral Academy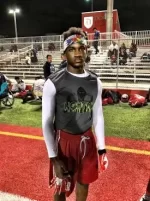 2020 DB Harry Henderson - Doral Academy
2020 QB Brandon "Moody" McDuffey - Christopher Columbus
Last edited: