Joined

Nov 22, 2016
Messages

80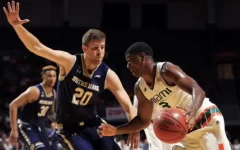 Happy
Friday Eve
! We've got a big game and a short preview for tonight's matchup in a game that could be a strong indicator of what type of team the Canes will be this year.
Miami
(1-1 ACC) takes on
That Team in South Bend
(3-0 ACC).
First of all, let's talk attendance. If you're local and have nothing going on,
go to the game
. Ticket prices are
$6 on Stubhub
, and this is the
biggest game of the season
thus far for Miami and their first contest against a ranked opponent at home. With an
ESPN broadcast
,
7pm tip time
, and
****ie V
calling the game, we really hope Canes fans turn out tonight. With these
incredible shirts
being given away for the first 1,000 fans, the shirts alone are worth coming out.
The Irish come into this game on a
five game winning streak
that includes wins at
Pittsburgh
and against then
#9
ranked
Louisville
at home. The Good Guys are looking to bounce back off of a disappointing loss to
Syracuse
in the Carrier Dome that has many people wondering if this team has the point guard play or front court depth to solidify an NCAA tournament run. However, it's still early in ACC play, so hopefully the Cuse loss looks better by March.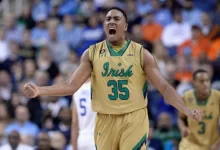 Opponent Breakdown
That Team in South Bend (RPI 23) comes into today's game at
14-2
. The Irish have played a challenging schedule with their two losses coming in consecutive non-conference games against
Villanova
(ranked
#1
going into the meeting) and
Purdue
(ranked
#1
5).
The Irish are led by 6'5 junior forward
Bonzie Colson
who leads the team in points (16.4), rebounds (10.8) and blocks (1.4). Colson leads the team's dynamic offense which averages
82 points per game
. Colson is far from the squad's only experienced player. All five Notre Dame starters are either juniors or seniors and have the experience of
back-to-back Elite 8 runs
in the past two NCAA tournaments. Expect significant contributions from guards
Steve Vasturia
(15.0 PPG) and
Matt Farrell
(14.0 PPG) as well as from senior forward
VJ Beachem
(14.6 PPG). Those four player each average over 30 MPG while no other player averages over 20.
Notre Dame is
the top 3-point shooting team
in the ACC this year averaging over
40%
from beyond the arc. If you're looking for a contribution from one of ND's other players, this is a good place to find it as sophomore (non-NFL quarterback)
Matt Ryan
leads the team shooting 47.3% from distance this year.
What to Watch For
Say it with me.
Y. G. T. M. Y. F. T.
Miami somehow shot
20% from the free throw line
against Syracuse (2 for 10). Look for that stat to improve (we hope) tonight. Ja'Quan Newton and Davon Reed were both held to
single digits
by the Syracuse zone, and given that Notre Dame plays a good amount of zone, this could be an issue for the Canes again tonight.
The Canes also desperately need to limit turnovers. Miami committed
15 turnovers
against Syracuse last week, and is averaging the
most turnovers per game in the Larranaga era
. The last time the Canes turned the ball over this much was in 2010-2011, when they were coached by
He Who Shall Not Be Named
.
The Canes have won
21 straight at home
and look to make it 22 tonight. A win tonight would be
Coach L's 600th career victory
and would make him
one of five ACC coaches
with 600 career wins (four of whom are in the Hall of Fame).
Oh, and how did we forget to mention the
dope 60s throwback unis
?
Lots to be excited for tonight. If you're local,
#PackTheWat
. If not, catch the Canes on ESPN at 7. Either way, see you on Twitter shortly before tip.
How to Watch
When:
Thursday, January 12, 2017 at 7:00pm
Where:
#PackTheWat
TV:
ESPN
Stream:
WatchESPN.com
Tweets:
@HardwoodU