Joined

Jun 12, 2012
Messages

11,782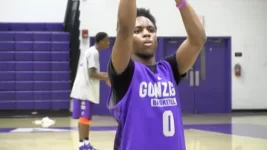 (Photo: Washington Post)
Miami basketball signee Chris Lykes is one of the most dynamic players in the country. When Lykes announced that he was headed to Miami on June 12th, that lead the way for what has become the most highly touted recruited class in Canes Hoops history.
"Throughout my time trying to make a decision, I didn't really listen to any outside influences -- it was all about my family," he said. "People told me to go to a 'better basketball school', but I just had a feeling with Coach Larranaga and Coach (Jamal) Brunt because they had been recruiting me for two years. They pretty much just believed in my abilities."
The University of Miami was exactly what the 5-7, 160-pound bucket getter was looking for on-and-off the court, as he explained. And a lot of that had to do with Miami coach Jim Larranaga.
"It was the perfect fit for me. Coach L runs a lot of a lot of ball screens -- he believes in his point guards and basically gives them the keys," Lykes added.
"Coaches are going to tell you what you want to hear when they're recruiting you, but Coach L doesn't change up. He's a players coach who always sees the best in situations. He's just a good overall person and that's something my family really liked and trusted and one of the reasons they're so comfortable with me going down there."
Miami came on the radar for Lykes when Larranaga's 2013 ACC Championship team was in the national spotlight. The electric point guard was inspired by the play of then-Canes leader Shane Larkin.
"That's when I started watching a lot of Miami basketball. He was probably my favorite point guard in college and what he was doing on the court was exciting for me and my family," he said. "I felt like I could do a lot of the things he was doing and that's when Miami became one of my dream schools."
Joining Lykes in Miami's 8th-ranked recruiting class (247sports) is 5-star wing Lonnie Walker, 4-star forward Deng Gak, and 3-star forward Sam Waardenburg, who just enrolled at Miami this month.
"It's real cool. When I committed, it was fun because coaches had me reaching out to guys and I felt like a recruiter. I pretty much know all the guys that we have this year and they're great players," Lykes said. "We're going to have a lot of fun playing together and I'm just excited to get out there."
The Hurricanes have gotten off to a 12-4 start this season and currently sit at 2-2 in ACC play. Lykes watches his future team play whenever he gets the chance.
"When I don't have games or practice, I try to catch most of the games," Lykes said. "We have a pretty talented team, we just have to come together. We just had a big win over Pitt."
Not only is Lykes doing what he can to help Canes Hoops coaches on the recruiting trail, but he's trying to be of assistance to the Miami football coaches as well. Despite being cross-town rivals with Dematha Catholic HS, Lykes has spoken to Canes running back target Anthony McFarland about his upcoming decision.
"I've been in his ear trying to get him to come, so we will see what happens," Lykes said.