Joined

Mar 14, 2013
Messages

3,314
Here are my findings based on 247 composite rankings for High School players from 2011-2016: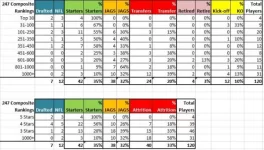 Conclusion: Stars do matter!!!
Although different recruiting services like some guys more than others, looking at the composite ranking gives us a pretty good idea of how a player will turn out in college. Of course injuries, coaching and of field issues derail many players and some develop later than others, but in general if you recruit a higher ranked player, the chances of success are much higher. I'm not saying a 4 star player is the better take every time but the chances of getting a potential starter pretty much doubles for every star given. So if you recruit a class full of 4-5 stars then you have a bunch of starting caliber players competing for starting job. The backups should be good enough to start at most schools providing solid depth.
Based on Al Golden's classes, 5 stars will most like be starters in college and go on to the NFL. 4 stars will have a 50% chance of being a starter in their college career and 82% chance of making it through all 4-5 years at the U. One out 4 three star recruits will end up starting in their college career. Almost 2 out 3 players ranked outside of the top 1000 will not graduate or play any meaningful downs at the U.
Players Drafted: 7 players have been drafted from these classes so far, the lowest ranked player out of high school?
#403
Phillip Dorsett. Njoku will change that this year but he is a rare find.
Free Agents in the NFL: 10 undrafted players are in the NFL from these classes so far. 4 were JC transfers and 1 came from prep school. Of the five out of high school only 2 were ranked outside of the top 450, Armbrister & Scott were both from the class of 2011 and did not receive a composite ranking at the time meaning they were most likely not evaluated by most recruiting services.
Last edited: