Joined

Sep 5, 2014
Messages

781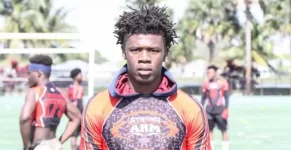 Photo Credit: Andrew Ivins Miami247
The hottest team on the 7v7 trail over the last two years, held their annual tryouts yesterday at Betty T. Ferguson Park, and one Delray Beach Atlantic WR made his way down and put on a show. Who is this WR --- His name is 2018 WR Corey Gammage.
"I just wanted to come out to Strong Arms event and put on a show." said Gammage "I don't have the stars like everyone else, but i have the ability to go up and make a plays."
The 6'3 195 pound wide receiver has offers from Miami, West Virginia, Kentucky, NC State, etc. While he claims he has no leader, there is one school that is sticking out for him.
"Miami, It's Miami man." said Gammage 'I really like how they use there wide receivers and the way they play freshman."
One reason he likes Miami is the was Freshman All-American Ahmmon Richards was used in the offense.
"He's a Palm Beach guy, so to he him do what he did means that i can come in and do the same."
Gammage did say that he was invited to Miami's junior day which is February 18th by Ron Dugans and Mike Rumph
Rise up A.T.M - Corey Gammage highlights - Hudl