Zach Dykstra recaps Miami official visit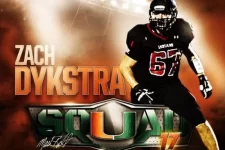 Hurricanes offensive line commit Zach Dykstra took his official visit to Miami this weekend and he recapped his trip with CanesInSight on Monday night.
"The hotel was great. Probably the coolest thing was going to the restaurant we went to on Saturday night – the Rusty Pelican. It was overlooking the water and downtown Miami with all the buildings and lights," Dykstra said. "It's just not something you see in Northwest Iowa."
Unsurprisingly, it was a warmer weekend in Miami than Iowa, which is something Dykstra said he and his parents enjoyed.
"It was definitely great," Dykstra said. "Both my parents went and they had fun – getting to know the coaches and some of the players better too."
He also had the opportunity to watch his future teammates put on an impressive performance on the field against Pittsburgh.
"It was fun watching them do so well on offense. They were clicking pretty well together," Dykstra said.
Having had the chance to be around the players and coaches, Dykstra laid out the blueprint for him to be able to see the field early. Miami coaches want him enrolling at 300 pounds, which he sees he is already hovering around.
"I'm going to need to work really hard and get to know the plays and get my body the correct shape and strength and stuff."
"I'm trying to do it as fast as possible so I can play early," he added.
Dykstra said he plans on visiting Vanderbilt in two weeks.