Weldon talks injury, Richt, and his senior season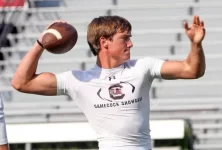 Miami has two quarterbacks committed in the 2017 class. Although four-star N'Kosi Perry has received most of the attention, Cade Weldon (Tampa Jefferson) is ready to show what he's made of after missing his entire junior campaign with a torn ACL, MCL, and meniscus suffered in the first game of the season last year.
Cade, the son of former Heisman trophy runner-up Casey Weldon, committed to the Hurricanes back in March and has held strong in that pledge. Mark Richt was his father's quarterbacks coach at Florida State.
"For being family friends for so long, he knows how great of a guy Coach Richt is. He will turn me into who my dad wants me to be, so he's fired up about it. He coached my dad in college and he's proven he's a great coach and person," said Weldon.
One of the biggest factors in his decision to commit to Miami was the opportunity for him to have Richt coach him in his position.
"Coach Richt is one of the greatest coaches of all-time. I loved to see him working with the quarterbacks when I was out at practice and he was actually hands-on. He said he was going to be, but it's cool to see him doing it," Weldon explained. "It's not something he just said he's going to do. He is a great coach and a great man."
As for his injury that he suffered last August, Weldon was already participating in a few camps over the spring and his recovery seems to be going smoothly.
"When I was at those opening camps, I felt like my knee was around like 80%, but I switched physical therapists after one of those camps and he told me that it was more around 50%," said Weldon.
"Everything is better now, but I would say I was probably doing a little bit more than I should have been doing at that time. I just clocked in at 4.65 in the 40 and I had clocked in at 5-flat during the Orlando opening, so it's getting a lot stronger."
The 6-2, 200-pound QB admits that although the rehabilitation process was a grind, he knows it has made all the difference in the world.
"Rehab was tough. It was tough going through that and not being able to do one of the things that I love to do. It was very tedious kind of stuff to do, but I knew it was going to make a difference," he said. "
"It's been going great though because I really think it made me appreciate the game more, as far as being out there in the summer for workouts and stuff and being able to just appreciate walking. It has made me a lot hungrier, too. I'm trying to turn it into a positive and go get a ring with my team."
Weldon threw 20 touchdowns, 9 interceptions, and 2,103 yards during his sophomore year while also compiling 366 rush yards and four touchdowns on the ground. It could be a banner year for him during his senior season.
"I've always been ranked as a 3-star and I've always had a chip on my shoulder with my dad being who he is and stuff like that. I'm going out there with something to prove this year, especially with my team not doing what we wanted to do last season. I want to show everyone why I deserve this Miami offer," Weldon said.
When asked to describe his strengths and weaknesses as a quarterback, Weldon didn't shy away from saying that he's more than just a stiff pocket passer.
"I think I have more athleticism than people realize. My season got cut short last season scrambling on a run. I love to throw outside the pocket. I think I'm an athletic pocket passer who can make throws inside the pocket and if I need to go get that first down, I don't have blazing speed, but I have game speed to go and make a play. I've been working on improving my deep ball accuracy during my summer workouts."
Miami is a school that is close to Weldon's heart not only because of his relationship with Mark Richt, but because of the fact that the Canes were an early offer for him in a time that was not the brightest for him.
"They were a school that believed in me when I was coming back from my injury. Just the tradition they have at Miami with the guys they put in the league and the attitude over there that they are bringing with Coach Richt. I'm really excited to see what we're able to do this year and I think we will be able to bring in some great talent," Weldon said.
And his Weldon's dad, a former Seminole, on board with his decision to be a Cane?
"Absolutely. When I'm playing over there, he'll be wearing a Miami shirt," he said.
Weldon is working his hardest to help Miami land the best recruiting class possible.
"Last week I got Coach Richt to send me a list of linemen that we are trying to bring in, so that's the group I'm focused on right now. The guy I'm closest to in the class though is Deejay Dallas."
Weldon is also keeping in contact with his fellow quarterback commitment, N'Kosi Perry.
We shoot back-and-forth on Twitter. We're not extremely close, but once we get there the competition between us will drive each other to be better and make our team better too.
How firm is Weldon's commitment? So solid that he believes it has forced other programs from shying away.
"A lot of schools came by in the spring and I think if I wasn't committed, then they would have offered. I think everyone just knows and has been discouraged by the fact that I'm such a solid commit with Coach Richt and our relationship. They always tell me that if anything changes to let them know."
My write-up from the spring with Weldon's coach from the Opening regional camp:
https://www.canesinsight.com/articles/canes-recruiting/2922