The Work: Miami off to a scorching start with 2018 class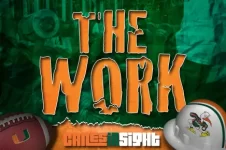 The Miami Hurricanes are off to a scorching start in the 2018 class and it does not appear like they will be slowing down any time soon. With already 9 commitments in the fold, sources say that more will be joining the class over the next few weeks, with more pledges coming as early as Saturday's junior day. Richt and staff will hold multiple junior days for this cycle, which is essentially an opportunity for recruits to get a tour of campus with their coaches and parents. Although many of these prospects have been to campus or games before, this is normally the first recruiting event of the year that is aimed directly for their class. There will also be a large number of underclassmen attending the event.
Here is the link to the list of expected visitors, which we will continue to update. Shoutout to [MENTION=10499]ErickMarreroU[/MENTION] for great work on this and be sure to follow him on Twitter.
https://www.canesinsight.com/thread/canes/117418
Now, for the latest buzz surrounding this class and more.
**Miami got a great start to their defensive line class today with the commitment of American Heritage DT Nesta Silvera. To give you an idea of what Miami is getting in Silvera as a player, here is my interview with him yesterday when he got the offer.
https://www.canesinsight.com/articles/canes-recruiting/3470
Also, here are one of his coaches' thoughts on Silvera as a prospect:
https://www.canesinsight.com/articles/coachs-commit-silvera/3474
I also just had a chance to catch up with his teammate at Heritage and recent Canes signee Kai-Leon Herbert. Here is what he had to say about Silvera:
"Miami just stole one of the top 2018 DTs -- his strength and initial punch are his best abilities. He is adding some fire power to the D line. Our D Line is already highly thought of and he just added something to it. He is someone people are gonna turn their heads and pay attention to."
**One more quick note on defensive line. We know how highly Craig Kuligowski is thought of, not only at Miami, but around the country and with recruits. As we saw last week, UM even gave him the title of assistant Head Coach, which he deserved. What is unique about Kuligowski's power within the building is his complete autonomy in recruiting of his position. What I mean by that is normally the position coach approves an offer and then it goes up the totem pole -- to the coordinator and then to coach Richt. Well, for defensive line, whatever Kuligowski says, goes. He has total control over the offers at the position, who he invites to events, as well as who he will visit and when. That says a lot of the trust that Miami coaches have in him.
**Recruiting numbers can always change for position as the year goes on and it likely will, but I've heard that Miami wants 7 at defensive back for this cycle.
Right now, the Canes have D.J. Ivey, Gilbert Frierson, and Josh Jobe committed in the secondary. From my understanding, Jalen Patterson won't be in the class on this side of the ball, if even at all. Also, an interesting note regarding Frierson: many view him as a prospect who projects as a free safety in college, but Miami coaches actually really like him at cornerback. Jobe is a safety in their eyes, but easily someone who can play corner if need be. Ivey, in my opinion, will make a big jump in the rankings before the season. He missed all of last season with an ankle injury and I know that Miami defensive coaches believe they got a steal in the 6-1 South Dade product.
Looking at the other targets at the spot, Al Blades, Jr. is obviously a name to watch and potentially announce his decision publicly in the spring time. Miami has a strong lead for Palm Beach safety Gurvan Hall as well, and sources say that he is likely to publicly announce within the next month or so. Carol City safety Randy Russell has quickly become a priority at this stage of the process, too. Miami defensive coaches love his striking ability as a tackler. He was in Gainesville last weekend for UF's junior day, so this will be a big opportunity to impress him on Saturday.
One name to watch at cornerback is a Asante Samuel, Jr. To this point, Miami has not recruited him very hard. There was a point a couple years back under Al Golden that Samuel, Jr. was actually on the verge of committing to the Hurricanes. A source told CanesInSight yesterday though, that Miami is expected to turn up the heat on him and make a run for his services. Florida State holds the lead at this point so we will see if Miami has too much ground to make up or not. It's a long year.
**At receiver, there are a few couple noteworthy things.
Daquris Wiggins is Miami's lone commit at the position right now and he's a good one. I've seen him multiple times live throughout his career and also have had the chance to see him in about 5 workout and camp settings over the past month. Once he becomes more consistent with his hands and continues to add muscle mass, he can be scary good. Physically, his tools remind me a lot of former Canes receiver Tyre Brady. Wiggins is a bit more refined at this stage though.
Similarly to Gurvan Hall, look for Mark Pope to make his intentions known in the near future for Miami. The Hurricanes were already in a great spot for him before hiring coach David a Cooney, but that just about sealed the deal. Pope is not the type of kid to play games, either, so I'd expect for him to be a solid commit and big recruiting tool for the Canes throughout the year.
The Canes are also in a better spot with IMG WR Brian Hightower than people realize. He is one of the top receivers in the country and another guy that Ron Dugans has been working for a long time.
Bulls247.com reporter and former CanesInSight contributor Tito Benach was at the Pylon 7-on-7 tournament in Orlando this past weekend and told me today that there was a ton of pro-Miami buzz with Armwood stud receiver Warren Thompson. He will be at Miami's junior day this weekend and is a former Canes commit before his mother wanted him to take his time with the process.
**Although it's the 2019 class, one name to keep an eye on is Grayson (Ga.) DT prospect Tru Thompson, who could very well be a five-star recruit when his time comes. The monster lineman already holds offer Miami, UF, FSU, LSU, Oklahoma, and more. Thompson was at a Miami camp last summer and his father told me this morning that they will be back in Coral Gables sometime this spring. So why is this a big deal? Thompson's father added that the family actually used to live in Pembroke Pines and him and his wife taught at Lake Stevens Middle School in Carol City. He said they they still consider South Florida home as well. There are strong ties here between the family's local roots and Richt's connections in the state of Georgia, so I would definitely keep him on your radar.
**On signing day a few weeks ago, Mark Richt commented that recruiting in this era is a multi-year process. Although the 2017 class looks solid on paper, some Canes fans might have been "disappointed" that the class did not seem to receive the first-year jump that we have seen at other programs. It appears that Richt is getting that bump in his second year in charge, which goes in line with his comments from a couple weeks ago.
Miami is no stranger to early commitments, either. It seemed like Golden racked up incredible classes at the beginning of each cycle until things slowly crumbled throughout the year and ultimately average classes flowed in. During those years, it felt like recruits were committing to UM in order to boost their name, but everything I've heard this time around indicates that prospects are looking to commit early because they know Miami won't have spots later in the game. We saw C.J. Henderson and Brian Edwards both commit to the Canes early last cycle only to see them sign with the Gators. Miami knew those guys would be battles until the end, even though they committed early. The staff believes that they are after a different breed of player this year, which is evident in Coach Banda's comments in this interview.
https://m.youtube.com/watch?v=MAA6KYGuMXA
One of the major faults of Golden and staff was their stubbornness and unwillingness to change their ways. I feel much more confident that this staff has learned from a full year in the south Florida trenches and I expect for them to capitalize on it in the 2018 class.