The Work 11-6: It's recruiting season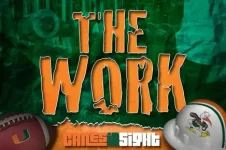 **The legitimacy of nationally ranked receiver Jeremiah Holloman's interest in Miami has been more than confirmed this weekend.
Deejay Dallas warned Canes fans earlier this week on the CanesInSight podcast that Holloman was being real with about Miami's chances of landing him. The 6-2, 190-pound 4-star receiver arrived in Miami on Friday with both of his parents, was another signal of where the Canes stand with Holloman. Sources say that Holloman's parents were extremely engaged in the game, cheering on the Hurricanes. It doesn't hurt that true freshman receiver Ahmmon Richards had 8 receptions for 144 yards.
After the game, people who had been with Holloman during his visit said that he even considered making his decision this weekend and they would be surprised if he was not a Cane by the time he enrolls at a school in January.
My prediction is Miami.
**Tight ends coach Todd Hartley is aggressively working to flip his second commitment of this cycle. Hartley was the primary recruiter of linebacker commit Bradley Jennings, Jr. who made the switch from FSU. Now Hartley is looking to add the 2nd TE commit of the class in Oregon pledge Tre McKitty.
McKitty was on campus on Friday with IMG, marking his 2nd trip to campus in the last month. McKitty took his official visit in October. He was not at the game yesterday as reported elsewhere. He is an early enrollee and right now I have him pegged as a flip to the Canes. Brian Polendey, Miami's current TE commit, was in town this weekend for his official visit as well. Hartley said this week with a smile that there was definitely room for another tight end in the recruiting cycle. Polendey has told me before that he had no problem welcoming another player at his position either.
**There are no concerns from Miami's end on the commitment level of Navaughn Donaldson, who was at the game against Pittsburgh yesterday. Donaldson said yesterday that he will visit Florida next week, FSU on the 26th, UNC on December 1st, and then the Canes will get his final official before he enrolls in January.
Donaldson has been up front with the Miami staff for a long time that he planned on taking visits, but he has indicated that he is solid with the Canes. As I've said countless times, Donaldson is a starter at Miami from the moment he steps on campus.
**Miami commit Deejay Dallas thinks of himself as a trendsetter and this move certainly classifies as trendsetting. Dallas told me he plans on majoring in Real Estate at the University of Miami. School reps confirmed that if Dallas follows through with his plans, he would be the first football player to ever major in Real Estate, which is a relatively new program.
The program began four years ago at Miami, and just last fall it became a designated major under the finance department with its own set of classes.
Dallas officially visited Miami this weekend and a lot of credit would go his way if the Canes can land Holloman
**Offensive line commits Zach Dykstra and Zalon'tae Hillery were also on their official visits this weekend. I will have full updates with them this week.