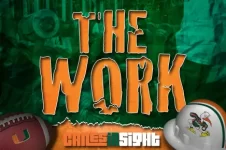 The last few years have been relatively quiet on signing day for the Hurricanes, but the way things are shaping up, it could be an exciting close for Miami's recruiting class.
I won't necessarily be making predictions, but hope to give you an idea of where Miami stands with some of their top targets down the stretch.
Jhavonte Dean: The former Alabama commit announced his decommitment from the Crimson Tide yesterday, which had been expected for some time. A family member told CanesInSight two weeks ago that Dean would be flipping from Bama to Miami down the stretch -- and that same person said this morning his commitment is slated to happen on signing day. The long junior college cornerback will also receive an in-home visit from Mark Richt before signing day.
[TWEET]822928228616667136[/TWEET]
Brian Edwards: Edwards said last week that Louisville was his leader, but sources were telling CanesInSight that the Miramar DB was still unlikely to leave the state. Miami really made a big impression on Edwards and his mother, according to a source, and the Canes have strengthened their chances of landing him on national signing day, when he is set to announce. He is scheduled to visit UF this week, with his mother still not likely to make the trip to Gainesville with him. Miami likes where they stand with Edwards and Mark Richt still has his in-home visit available, which he will take this week. A source close to Edwards' recruitment added about Richt's upcoming visit, "that'll be to seal the deal".
[TWEET]822946501626302464[/TWEET]
Jeff Thomas: Miami was in a great spot with Thomas even before his visit this weekend and he is another prospect slated to announce on signing day. His parents came along for the trip and the Canes look well positioned to land Thomas' signature on February 1st. Multiple Miami commits told CanesInSight that Thomas and Harley have both said they will be in the class.
[TWEET]822908000256004096[/TWEET]
Mike Harley: Harley was visiting West Virginia this weekend, but the talk surrounding him right now is that a flip to Miami is likely coming on signing day. As mentioned in the podcast earlier this week, Harley told multiple people on his visit to Miami that he was leaning towards choosing the Canes, but would remain relatively quiet about his intentions until signing day. It could have been the high of the Miami visit, but even a week after his UM visit, the same buzz has remained. The way that Harley's recruitment has played out though, Ron Dugans will need to stay on him until the very end.
C.J. Henderson: After visiting UF this past weekend, Henderson's visits are all done and we will wait until signing day to hear his final decision. It's hard to judge how realistic of a chance the Canes have, but multiple people close to him believe that he has not made his choice yet. Miami, Alabama, and UF are all viable options for the Columbus cornerback. Henderson will not do any media until after his decision, but his teammate Trajan Bandy told CIS today that Henderson is really thinking hard about the Canes -- Bandy was not previously confident that Miami had much of a chance.
Anthony McFarland: The four-star running back is set to announce his decision on Wednesday via a Bleacher Report video. Miami has been ultra confident on their chances of landing him for months and that has not changed as the end of the cycle approaches. This could mark the beginning of a string of commitments to close out the 2017 class.