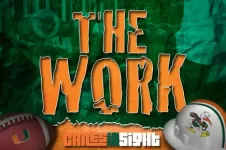 **Miami's recruiting weekend started off with a splash as Coconut Creek CB Malek Young committed to Mark Richt on Friday morning. The Army All-American is known for his ball skills and speed. He played both ways at Coconut Creek. Deion Jackson won't be in this class, so Miami needed the boost at corner.
Highlights:
Senior highlight - Malek Young highlights
**Yesterday morning, Lake City, Fla. WR Latrell Williams committed to the Canes. I reported on Friday that Brad Kaaya would be hosting Williams and that paid off handsomely for Richt. Althought Williams probably does not have "4.2" speed as some are suggesting, he will bring an element of speed to this offense that is desperately lacking. With the uncertainty of Sam Bruce's commitment, Williams is a very solid pick-up as a slot prospect.
Here are his highlights:
Senior Year - Latrell Williams highlights
**Those two commitments brought Miami's class total to 16 (that includes Deion Jackson, who probably won't end up in class). I've heard 22 as the number the staff is shooting for, but that can always fluctuate with non-qualifiers and transfers.
**Ahmmon Richards to Miami continues to look more probable. Would be a massive boost for the class.
**It was reported elsewhere that former DB commit James Pierre (Deerfield Beach) would be visiting Miami unofficially this weekend, but I'm told that he did not make the trip. Look for him to take an official with his teammate CB Aaron Robinson (UF commit). Miami goes in-home with Robinson tonight.
**I spoke briefly with 6-3, 190 WR Kelvin Harmon (Palmyra, NJ) who told me that WR Coach Ron Dugans offered him last week.
Harmon said that Dugans told him that he liked his "size and speed combo and ball skills". According to Harmon, Miami's new receivers coach said that there was "nobody" like Harmon in the class.
The three-star prospect told me that he will take his official visit to Miami this weekend. He added that Miami does in fact have a legitimate chance to land him. Harmon is also considering North Carolina, NC State, South Carolina, and Rutgers.
--Harmon had 1,114 receiving yards and 17 TDs this season. Here are his highlights:
https://t.co/OwZiPbOyec
**South Dade CB James Wiggins is a prospect who committed to Miami under the Al Golden staff. It remains to be seen if he will stick with the Canes, as it seems like Richt's staff may have cooled on him.
"I haven't talked on the phone with Coach Richt, but he has texted me a few times. Coach Rumph was telling me about his background and how the DBs have been grinding at UM and they're really improving," said Wiggins.
The South Dade product is planning on visiting Miami officially next weekend. He just wrapped up a weekend in Cincinnati and will take a look at Temple on January 29th weekend.
"I don't have expectations for it (Miami visit). I just want to meet the new staff and be around the team a little bit."
As for his final decision, that will take a bit more time.
"I'm gonna see how next weekend goes and then I'm going to sit down with my parents and talk about it."
--Wiggins says he considers himself a commit who is "looking at his options".
**Long-standing Miami safety commitment Cedrick Wright has been on campus countless times, but he took his official visit to Coral Gables this past weekend.
"I had the opportunity to meet my new coaches. I got to learn about Coach Manny (Diaz) and Coach Banda's scheme. They can use me in different ways and different schemes, I just have to come in with the right mindset and the door is open," said Wright.
Although he considered the weekend a success, Wright was not willing to say his recruiting process is completely over.
"I'm not sure if I'm going to shut it down just yet, but I'm going to know in about a week or two. I might fit in a Clemson visit and an Ohio State visit."
The Gulliver prospect did say that there is a different feel surrounding the program since the staff change.
"Coach Richt is a cool man. He's super warm and there's a great vibe around him. He gives you a feeling that the best is yet to come. The staff and everything is totally different. It feels like everything is back on track and it's about to get rolling, We, the players, just have to get to work."
Director of On-Campus Recruiting Jorge Baez is one of the few holdovers, albeit in the football ops department, from the Golden staff. Wright was more than happy to see his former high school coach retained.
"That was big for me. Baez was probably like more than 50% the reason that I committed. The bond we have is unbreakable. It means a lot that Coach Richt trusted Baez."
**Central DB Jamel Cook is all over the place right now. The talk is that his mother and grandmother would like him to stay in Miami. I would be very surprised if he sticks with FSU, but watch for USC to make a late push here. He will also visit LSU on the 29th, and they feel good about their chances with him as well.
**I'm hearing that former Miami commit Josh Uche is leaning towards choosing Michigan. The new staff at Miami has not pursued him, but I am told he is a top priority for Michigan.