Richt Day 4 Spring practice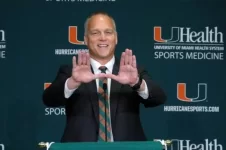 At the start of spring practice last week, Miami coach Mark Richt noted that his team's conditioning was not perfect due to spring break occurring the week before practice. He was a bit more pleased today, but also said the team is not in game shape just yet.
"I thought today was the hottest day and I think it tested them the most. Pushing the through being fatigued in regard to effort, but also in regard to your assignments," Richt said." "When guys get tired, they tend to not go as hard and they don't compete and think quite as well when they're fatigued."
On Braxton Berrios' role:
"He'll be in the game so he'll get balls thrown to him," Richt said. "So much is predicated on what the defense does."
"The coverage will dictate who gets the ball most of the time in this system."
Richt was asked if he has any idea about the roles that Jeff Thomas and Mike Harley could play.
"They're a lot like N'Kosi in my mind. Before we start nailing down who's starting, I want to see what these young guys can do. Most everything is not nailed down until after that second scrimmage in the fall," Richt explained. "We have a pretty good idea of where we are going to put them, but that could change depending on what everybody else does."
Wide receiver Lawrence Cager is not currently taking contact, but he seems to be progressing very nicely coming off a knee injury suffered last summer.
"Cager looks good," Richt said. The thing about him is that when he's running routes, he's making adjustments to balls that aren't perfect, he looks like he has no fear back there. He hates his brace, but he has to wear it. Sometimes guys look very tentative, but he doesn't look tentative. He's been running full-speed and changing direction, but we don't want contact right now."
He then discussed Miami's recruiting momentum in the 2018 class.
[TWEET]846755481628659713[/TWEET]
[TWEET]846757378053849089[/TWEET]
Richt noted that cornerback Mike Jackson had a great day of practice.