Pinckney has high hopes for the Canes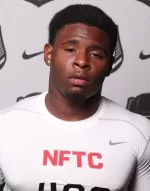 The theme for Miami's recruiting classes over the past few cycles has been decommitments late in the season. 2016 linebacker commit Michael Pinckney (Raines) is confident that this year's crop of commitments is different.
"To be a part of this class is just special. I feel like we know that we have to stick together. All them other dudes that decommitted were just bandwagon players and they listened to other people. We are coming here to build something back from the ground up. Anybody can go to like a Florida State where it's already built, but we want to do something special," said Pinckney.
The 6-1, 215-pound weakside linebacker explained his current workout regiment.
"I have our regular team workouts from Monday-Friday and then on the weekends I work with my personal speed coach. It's a big process and I don't take time off. There is no offseason."
Pinckney has had an up close look at the Canes and gave his thoughts on the upcoming season.
"Their season will go as far as they want it to go. I see the work they're putting in everyday and they are constantly moving. They have something to prove because people say they're down and out."
One of the reasons for Pinckney's optimism about the Miami program is quarterback Brad Kaaya.
"Brad is just an outstanding player. He's a quiet, laid back guy who does what he needs. I can already tell you that he will be a Heisman candidate this year because I see how he works and he takes pride in what he does. He's what we need to lead this program."
Pinckney's thoughts on Miami's new Adidas branding?
I'm happy they came out good. I'm feeling the cleats and everything about the look.
The aggressive linebacker has a message to Canes nation.
"No matter how everybody's opinion is on this class, we are a family. I was really born into this and I want to be a part of it and take it to the next level."