Miami vs. George Washington Game Preview (via @HardwoodU)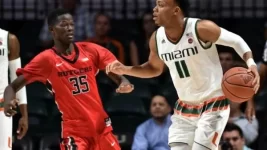 T'was the night before the night before the night before Christmas, and all through the Wat, the Canes beat George Washington, making shot after shot.
Let's hope that's the way things go for Miami, as the Canes take on
George Washington
at 7:00pm tonight (12/22) at home. Here's what to watch for:
Opponent Breakdown
The
Colonials
come into Thursday night's matchup at
8-4
, including decent wins over
Temple
(RPI 34) and
UCF
(RPI 81). They also got waxed by
FSU
a few weeks ago, which isn't a bad loss, but a loss to
UAB
(RPI 194) certainly falls under that category.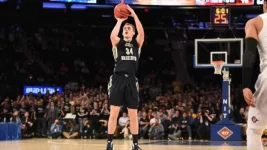 GW has three players averaging double digits, led by senior forward
Tyler Cavanaugh
(17.1 PPG, 7.6 RPG, 2.9 APG). Cavanaugh is a load at 6' 9" and 243 lbs. and has already scored 20+ four times this year. Look for
Murphy
,
Lawrence
, and
Huell
to take turns trying to stop him throughout the game.
Another player to keep an eye on is sophomore guard
Jordan Roland
. Roland started the season playing sparingly, but has seen his utilization climb dramatically in the six games. Roland dropped a
career high 27 points
on UCF, and had 14 and 11 against
Howard
and
Temple
, respectively, in GW's prior two contests.
Hailing from Kagawa, Japan, junior guard
Yuta Watanabe
has the coolest name of anyone in the game, and also averages 13.4 PPG and 5.2 RPG. Junior guard
Jaren Sina
(10.3 PPG) and Florida native freshman center
Collin Smith
(7.7 PPG, 6.2 RPG) round out the rest of the primary cast for the Colonials.
What to Watch For
Miami should win this game easily, especially on home court. The biggest key for the Canes will be getting up for this game given it's likely to be poorly attended and with the
holidays looming
around the corner. If the Canes come out focused, they're likely to win big. If they play well enough, they might even give us the Christmas gift of watching
Mike Robinson get buckets
.
Similar to last game, Miami's transition defense and closing out on shooters will be key, as GW is shooting
46% from three point land
in their last three games (all wins). Ultimately, Miami is substantially more athletic and talented that GW, so shouldn't have trouble in this one. Miami has
never beaten George Washington
(0-3 all time with the most recent loss coming in 2013), so look for the U to get in the win column tonight.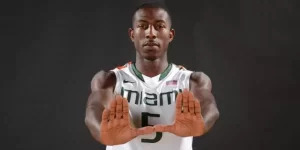 Finally,
Davon Reed
currently sits at
987 career points
, and is likely to eclipse the
1,000 point mark
tonight given he's scored in double digits in each of the past six games.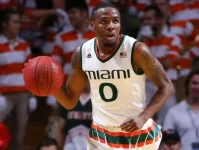 Bonus: The Great Ja'Quan Newton Point Guard Debate Update
Since we first discussed Newton's fit at the point guard position following the loss to
Florida
, it should be noted that his play has improved substantially. In the last three games, Newton has an
assist-to-turnover ratio of 3.3
(20 AST, 6 TO), compared to
1.2
(30 AST, 25 TO) in the rest of the games this season. Part of this is attributable to Larranaga using him off the ball more and having
Brown take the ball up the floor
, but there's no denying that Newton accumulating
40% of his season total assists
in the last three games is promising.
How to Watch
When:
Thursday, December 22, 2016 at 7:00pm
Where:
#PackTheWat
TV:
ACC Digital Network
Stream:
WatchESPN.com
Tweets:
@HardwoodU