Miami rides offensive roller coaster in 38-10 victory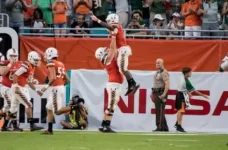 With 5:21 remaining in the second quarter, quarterback Brad Kaaya released a pass 'Canes fans aren't accustomed to seeing.
"I just got hit from the back," Kaaya said postgame. "I can't really control that and the ball kind of got – I was throwing a back shoulder to Stacy, and I just got kind of pile driven as I threw the ball."
The hit Kaaya was referring to came from his blindside, and the result of the contact was a low pass towards the right hash that the defense was able to intercept in Miami territory.
The play wasn't Kaaya's fault, but as the game wore on, offensive woes became a concern.
Miami couldn't get things moving throughout the first half of play, and were held scoreless in the game's opening period. The Hurricanes moved the ball a total of 46 yards through the air on only one completion in the first quarter, and ran the ball for a combined total of only 18 yards.
The 'Canes were reeling offensively, and Miami's offensive line could not consistently shut down the Owl's front seven. FAU got one more first down than Miami in that period, and fans began to wonder if they were in for a long night.
"Offensively – not pretty by any stretch," Head Coach Mark Richt said while speaking about Miami's offense postgame. "We were off on the timing of our throwing and catching a little bit. We had some opportunities, we just couldn't cash on them."
Several of Miami's missed opportunities came through the air, where Brad Kaaya had one of his most sporadic games so far as a Hurricane. Kaaya overshot senior Stacy Coley on several passes, and couldn't connect with David Njoku late in drives.
Luckily for the offense, Miami's defense came through, and held Florida Atlantic scoreless until after the 'Canes first score. Running back Mark Walton ended up rushing for two touchdowns before the half concluded, but Miami's offense still seemed troubled with a 14-3 halftime lead.
The Owls kept hanging around throughout the early part of the game, and it wasn't until the battle up front changed that FAU began to wear down.
Miami's offensive line put a disappointing first half behind them in the game's final two periods, and the 'Canes rushed for a total of 181 yards in the second half. Once Miami's running game got into a rhythm the rest of Miami's offense followed suit, as Brad Kaaya settled down and began to manage the game.
"You just can't let it rattle you," Kaaya said postgame while speaking about his early struggles. "A couple balls missed, a couple balls got tipped, couple balls got tipped – whatever happens, as a quarterback, you can't let it frazzle you. You can't let it take away from your other responsibilities."
Kaaya did not throw any touchdowns in the second half, but only attempted 11 passes after throwing 20 in the game's first two quarters. The junior did a good job of managing the game in the last two periods, and finished strongly by completing 14 of his final 19 passes.
Aside from the passing game, Miami also had multiple backs with over 100 yards rushing for the second straight game, and amassed an over 7 yard per carry average. The dynamic tandem salvaged what could have been a futile game for Miami offensively, and solidified the belief that Richt's offense will rely heavily on the running game.
Miami pounded the ball during the second half, and played a more simplistic offense.
"We simplified everything and made it to the point where we could line up and know for sure what we were going to run and not have a bunch of combos," Richt said.
There is little doubt Miami must hit on all cylinders in order to defeat top opponents, but after scoring 108 points in their first two games, the 'Canes are confident they will get the job done.