Miami pounds the ball past NC State in 27-13 victory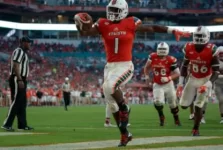 Photo Credit:Josh White
Saturday was considered a trap by many for the Miami Hurricanes, who faced North Carolina State University on the road at Carter-Finley Stadium.
The Wolfpack entered Saturday with the number 5 ranked run defense in the nation, holding opponents to less than 100 yards rushing per game. Miami; on the other hand, walked into Raleigh, North Carolina with the 81st ranked offense in the country.
Despite the disparity; however, the stats on paper did not translate onto the field Saturday afternoon. The 'Canes rushed for 129 yards on 32 carries, and scored all three touchdowns on the ground.
It was the third straight dependable performance from Miami's offensive line, who have opened up holes for a combined 529 rushing yards the last three weeks.
"There has always got to be some blocking up front," Richt said. "A couple times when he did break loose it was excellent blocking maybe a side tackle that he broke here and there… Sometimes you got to chip away and then eventually something will break."
Mark Walton was the leading rusher for Miami with 120 yards on 19 carries. Walton finished the game with 3 rushing touchdowns, running the football for an average of 6 yards per carry.
Walton surpassed the 1000 yard rushing mark on the season Saturday, on a 24 yard touchdown late in the 4th quarter.
[TWEET]800078382847266816[/TWEET]
"I just go out there and play hard," Walton said. "O-line did a great job for me, coaches trusted me even though in the first half it didn't go so well for the running game, in the second half we came out and ran the ball well."
Unlike most games for Miami, this matchup did not have much of a committee approach on the ground. Although Edwards picked up a pivotal first down and Yearby ran the ball rather well, both backs only combined for 7 carries and 27 yards.
Miami passed the ball for 286 yards on 38 pass attempts, but when the 'Canes entered NC State territory the running game took over, punching in 3 touchdowns to give Miami 7 rushing touchdowns throughout their 3 game winning streak.
The performance on the ground goes back to Miami's offensive line, who has performed admirably since moving junior KC McDermott to tackle and starting sophomore Tyler Gauthier at guard.
The spread offense has opened up inside zone runs for Miami, who will look for similar success again next week against the Duke Blue Devils and their 69th ranked rush defense in the nation.