Miami's receivers undergo a youth movement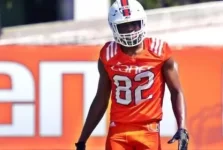 After allowing over 360 points to opponents last season, and giving up 2600 yards on the ground, a large part of Miami's focus during the offense has been on the 'Canes defense. Whether it was through the hiring of coaches such as defensive coordinator Manny Diaz, or the acquisitions of top flight recruits such as Shaquille Quarterman, Miami's defense has garnered most of the media's attention.
But while fans and writers debate about Miami's youth on the defensive side of the ball, the 'Canes biggest question mark may be on offense, where several young receivers have been forced to step up after sophomore Lawrence Cager's injury.
"Everybody has had to pick up the slack," Wide Receivers coach Ron Dugans said to me while discussing his unit on media day. "As I told those guys in the summer time, walk-ons included, we are going to need everybody in this room to step up."
Cager was one of Miami's top recruits in the class of 2015, but after his injury, several underclassmen such as Ahmmon Richards, Sam Bruce, and Dayall Harris, are next up on the depth chart to step up.
"I feel like I need to step up since they recruited me," Dayall Harris, who is entering his redshirt sophomore season, said to me alongside fellow receiver Ahmmon Richards. "When Cager went down, it was a big shot because it was some weird 7-on-7 injury. It was just like 'boom'."
And just as Cager went down, others got up, with freshman Ahmmon Richards stepping in and making an impact despite his inexperience. According to Coach Dugans, Richards is most likely Miami's fastest receiver "on paper", with Richard's fastest official 40 yard dash time clocking out at a 4.39 in high school.
At 6-1 192 lbs, Richards presents the size and length to make fans excited, but for Ahmmon himself, the motivation of success from within is what fuels him.
"I never want to fail, in anything," Richards said on media day. "I think that is what drives me, I just hate failing."
Richards' never say die attitude is part of what draws fans and coaches too him, and his attitude has helped him rise amongst the wide receiving corps. Richards is one of Miami's top freshman receivers alongside Sam Bruce, who was not available on media day, but figures to be a large part of Miami's passing game moving forward.
Miami is set to have a major trio of veteran wide receivers in Stacy Coley, Braxton Berrios, and Malcolm Lewis this season, and it is up to them to motivate the entire group. According to Coach Dugans the veterans have done a great job this offseason, but no matter what age they are or high school ranking they obtained, the best player will play for the 'Canes.
"To me it's still an audition," Dugans said while speaking about each wide receiver position on the team. "Whether it's the X's, the same position Cager plays, or it's someone at another position outperforming the guys at that position," "The best guys will be on the field."