Miami's defensive backs step up in larger role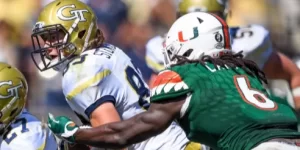 Mark Richt said this week that Miami's defensive backs would have to shoulder a larger workload against Georgia Tech, and play man coverage practically the entire game.
With all the pressure on Miami in their first conference game of the year, the defensive backs responded by sealing the edges and disrupting play action passes. Richt said it could be a long game for Miami's defense if the DB's were consistently blocked out of the play, but the 'Canes safeties lived in the backfield.
Senior safety Jamal Carter led the team with 9 total tackles, and veterans Rayshawn Jenkins and Jaquan Johnson combined for ten more tackles of their own.
Miami's safeties were never more impactful than on one of the most crucial plays of the game. On a 4th down down at the beginning of the 4th quarter, Justin Thomas attempted a play action pass with much of the game on the line. Down 14 points on Miami's side of the field, quarterback Justin Thomas targeted receiver Clinton Lynch in the end zone but was not successful. Rayshawn Jenkins never let Lynch grab possession of the ball, and Miami began to put the final nails in GT's coffin.
Corn Elder led the way for Miami's cornerbacks with a huge quarterback tackle late in the 4th quarter, and Sheldrick Redwine helped seal the edge for the 'Canes as well.
"The thing that also gets overlooked in this game is how well our defensive backs played versus the pass," Defensive Coordinator Manny Diaz said postgame. "You don't notice when all those passes get batted down, they are playing man coverage the whole game. They are in such a high stress environment."
Cornerbacks were a major question mark entering 2016 for the 'Canes, but nearly every player who stepped onto the field played well. Adrian Colbert came back from an injury that kept him out of Miami's matchup versus Appalachian State 2 weeks ago, and although he didn't get as many snaps as sophomore Sheldrick Redwine, the senior broke up one pass in the second half.
Michael Jackson also took the field at Bobby Dodd Stadium and recorded a tackle, while Miami's defense held Justin Thomas to under 100 yards passing.
The 'Canes forced three turnovers overall in the game, two of which were returned for touchdowns
"To get that score was big," Head Coach Mark Richt said while speaking of the first score that was returned for a touchdown. "To make it a two score game again and give us a little breathing room, because they kept banging away at us."
With this performance, Miami's defensive backs continue to prove preseason doubters wrong, and will enter their most anticipated matchup of the season against Florida State with momentum.