Mallory still has Shockey jersey, ready to learn at Paradise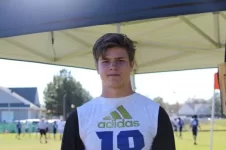 Canes great Jeremy Shockey announced yesterday that he will be at Paradise Camp for the second straight year. One person thrilled to hear that news was Miami tight end commit Will Mallory, who grew up watching Shockey and has family ties with him from his dad's coaching days with the Saints.
Mallory told CanesInSight the following:
"I'm super excited to hear that he will be there! Learning from the greats will be the best experience I could possibly have. I actually grew up around Jeremy Shockey when he played for the Saints. My dad coached for them when he was there and I actually still have a Jeremy Shockey jersey haha."