Jackson credits first year success to Kuligowski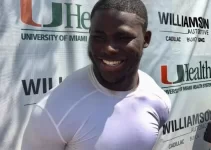 Miami defensive end Joseph Jackson put on a dazzling freshman season display in 2016 that very few saw coming.
Jackson's role quickly evolved from spot 3rd-down pass rushing specialist to arguably UM's most dynamic defensive talent who led the team in sacks with 8.5 and tackles for loss with 11.5.
Even more impressive is that Jackson did not enroll at Miami until May, so this is his first spring as a Hurricane. So just how was he able to have that first year success?
"Obviously, one reason was because of Coach Kool," Jackson himself said. "Secondly, they trusted me and allowed me to play. Most of the time I'm on the field I know the play, but I just trust my instincts. Coach Kool loves players who play fast even if you mess up, so he allowed me to do that."
Jackson admitted that "a lot" of what he did last season was just on raw talent alone, at least in the first part of the season.
"By the time we played Notre Dame or Virginia Tech, I felt like I had gotten way better and I had a better second half of the season," Jackson said. "I just came to the realization that it was simple. I didn't have to overthink things. I just had to play fast and violent."
It will also be the second year of experience for a number of returning players on Miami's defense. Jackson's expectations for him and his team are sky-high for 2017 after seeing what they are capable of last year.
"Practice-wise it's easier, but nothing is different. We still have the same mentality which is to be better than every other team and to make myself better," he said. "Everybody knows their calls and we are in-sync. We all communicate great. We're missing a few pieces, but once fall comes around we are going to be great," as Jackson explained.
"There's no doubt in my mind that we're going to be one of the top defenses in the county, but we have to hold ourselves to that standard every day in practice."
Jackson was then asked if it was a challenge that his film was now available to opposing coaches. His answer showed that this is a player who is nowhere near done improving.
"There's a whole bunch of stuff on me in the ACC, but that's just as a freshman. I have until next fall to the first game to get better and perfect everything that Coach Kool wants me to do," he said confidently.
Coach Kuligowski said on Thursday that freshman defensive end Jonathan Garvin had the most impressive first five freshmen practices that he'd ever seen. Today, Jackson added that Garvin resembles him physically.
"I think Jon is a little bit like me. Jon is aggressive, he's hungry, he's strong, he's fast off the ball. With Coach Kool's help, he's going to be a good D-end," Jackson said.
[video=youtube_share;U0FA4XlF7mQ]https://youtu.be/U0FA4XlF7mQ[/video]