IMG OL Dunlap talks surprise visit to Miami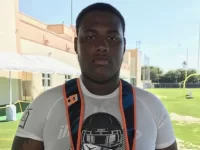 IMG Academy offensive lineman Curtis Dunlap punched his ticket to the Opening Finals in Oregon on Sunday afternoon in Davie. On Saturday though, he made a surprise visit to Miami's campus in what looks like was a major positive for the Hurricanes.
"I was coming to the Opening," Dunlap said. "I had been wanting to visit Miami anyways and it was perfect timing with Art (Sitkowski) going to visit and everything worked out good."
Dunlap added that he "had an idea" Sitkowski would be committing to Miami "because he had been talking about them a lot".
"The campus was beautiful and the game was even better. We went to the Duke-Miami game and it was a great experience," he said.
Dunlap also seemed to be impressed by Miami offensive line coach Stacy Searels. The two of them are building a relationship.
"Coach Searels is a great coach. I didn't get to sit down with him too much, but I'm giving him a phone call Monday night to talk with him for a little bit, but he's a great dude."
Miami's plan for this past Saturday was to gather a group of elite targets and keep the number of prospects on campus small in order to give each of them a special experience. Dunlap certainly felt like Miami's head coach was actively engaged in the day's events.
"Coach Richt sat with us the whole time when we were eating and everything. It's not often that the head coach is with you for most of the day and showing you all of the attention. He knew all of our names and where we were from. He took the time and it was more meaningful," he explained.
Sitkowski is not the only potential Canes signee in this class with Miami prioritizing Brian Hightower at the receiver spot as well. So what are the chances that Dunlap and Hightower continue playing together in college?
"We've talked about it and we're just going to work it out, but it might be highly likely," Dunlap said.