Frierson recaps visit with Columbus trio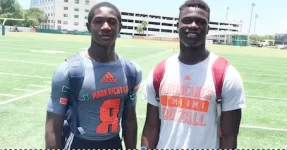 (D.J. Ivey with Gilbert Frierson)
2018 Miami safety commit Gilbert Frierson was one of the few talented defensive back targets in Coral Gables today. Frierson was a part of a crew that included fellow 2018 commit and childhood friend Josh Jobe, 2017 CB commit CJ Henderson, and 2017 Oklahoma CB commit Trajan Bandy.
"We just talked about what we could do together and what our team would be," said Frierson.
"I think we're (Miami) really improving on our recruiting."
Frierson was paying close attention to his future coaches Ephraim Banda and Mike Rumph.
"I was watching how they are with the players. They were making everyone better," he said.
Frierson's friend DJ Ivey was also offered today and he is confident that he might hop on board soon as well.
"I think he could be joining the family soon. Just stay tuned with that one," Frierson said.
Where does the Coral Gables DB expect Trajan Bandy to wind up?
"Of course, I'm going to say The U. I just feel like home is home, and he knows that. I think he wants to join me and CJ and the rest of us," Frierson said.