Frierson reassures commitment after UGA visit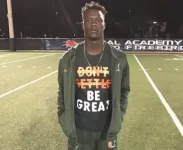 Miami safety commit Gilbert Frierson visited Georgia over the weekend, but tells CanesInSight today that his Miami commitment is solid and fans should not worry about his status in Miami's 2018 class.
Frierson, who has visited Miami countless times over the past year and is the cousin of Canes great Frank Gore, added he just wanted to have some fun with the recruiting process since UM is one of the only schools he has even seen. He will be on Miami's campus throughout the summer.