Dayall Harris emerges as screen weapon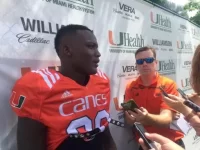 Miami receiver Dayall Harris led the team with five receptions against Appalachian State last game. He was particularly dangerous in the screen game, where him and Brad Kaaya got into a nice rhythm.
"They just couldn't stop it," Harris said. "If you put the linebacker over the top, it's like a run/pass option. So if the linebacker is over the top, we run the ball. If the linebacker is in the box, we throw the little bubble screen. It's like an extended run."
The Canes wide receivers have been a big part of the team's success in the running game, as well as with screens.
"It's definitely something that Coach Dugans preaches every day. He tells us every day when we watch film that we have to be more physical," Harris said. "When the first game came, he started seeing we could block."
"That's just something we take pride in as a receivers group. We plan on keeping it up," he said.
The JUCO transfer has been pleased with his unit's performance three games into the season. He was also happy with how the team responded after what he considered a lackluster showing in week two.
"We've been able to get everything we've wanted. The second game, we had a little problem with the passing game against FAU, but we had open players," Harris said. "We came back and got right against Appalachian State."
The Hurricanes have been able to create balance in the backfield between Mark Walton and Joseph Yearby. Harris believes that the receivers group has done the same and he explained the advantage that it gives them.
"I've been getting open. Brad has his reads and he throws to the open man. When I'm getting open, Stacy is open, or Malcolm is open. It's not a big deal – like I'm not down that I'm not getting the ball because I know my time is coming," Harris said.
"There's not a favoritism of who gets the ball. Whoever is open, gets the ball," he added.
Harris graded his personal performance early in the season.
"I would say I've been doing pretty well. I wouldn't give myself an A because the competitor that I am knows I could do a lot better. I would give myself like a B."