Article: Right explains scrimmage two format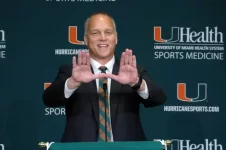 Miami coach Mark Richt explained the format of tomorrow's second scrimmage of fall camp, which will be closed to media.
Each offensive unit will have drives starting at:
Own 25-yard line
Own 35-yard line
Midfield
Opponent's 40
There will also be a 1-minute drill before the half and before the end of the game, as well as 3rd-and-medium and 3rd-and-long. An overtime period and two-point plays are also in the schedule for tomorrow's scrimmage.
Richt said that the 1-minute drills, overtime, and two-point plays were not worked on during the first scrimmage.
He says the priority for him and his son Jon Richt is "to find out who the number two quarterback is". Richt had previously stated that he would have liked to have a number two guy following the first scrimmage, so it is likely that the backup will be named after tomorrow.
For scrimmage one stats, check here -
https://www.canesinsight.com/articles/scrimmage-1-stats/3063