Article: Amari Carter "From the 561 to the 305."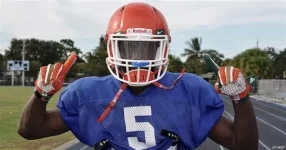 Palm Beach Gardens safety Amari Carter commits to Miami over Notre Dame. He becomes Miami's 20th commitment in the 2017 class and the second safety to commit to Miami, the other is Miami Southridge safety Billy Gibson Jr.
[video]https://twitter.com/ErickMarreroU/status/789977197264171009[/video]
"It felt like home, i visited both campus and they were both really nice." Carter said "I prayed about it and Miami is the best place for me."
Carter attends Palm Beach Gardens High School, a school that has been known in the last two recruiting cycles to send kids to Notre Dame over Miami with Te'Von Coley in 2015 and Devin Studstill in 2016.
"Te'Von and Devin both played a part in my recruitment, but i told them that this is my decision and i'm going to do what's best for my family and myself."
Miami head coach Mark Richt and safeties coach Ephraim Banda have been recruiting Carter since the very beginning and they have big plans for the 6'2 188LBS safety
"Coach Richt and coach Banda have been recruiting me since they've been on campus." Carter said "There focus isn't primarily football, they care about their players off the field and prepare them for life outside of football, that's what caught my attention about them."
Miami is set to face Notre Dame in South Bend for the first time since 2012, with the decision off his shoulders, Carter won't have a hard time rooting for his new school.
"I'm very excited to watch this game. I think Miami will win, they have a young and hungry defense that will lead them to victory."
Now that Carter is committed, will he be that focal leader for this recruiting class like Trajan Bandy, DeeJay Dallas and DJ Johnson?
"Without a doubt, The coaches give us the freedom to encourage players to come to Miami and to help bring back TheU."
Miami has 4 players committed in the secondary and a pair uncommitted cornerbacks Chris Henderson and Latavious Brini who could join this class. Carter isn't shy about his saying his thoughts on them.
"I can't wait to get down and play with those guys." Carter said "It's not even just being on the field with them, it's being in the weight room, going to class together, etc. I just want to bond with those guys and be great together."
"Hopefully Chris and Latavious jump on board, but it's their decision."
Carter has one thing he wants to say to the CanesFam
"From the 561 to the 305, i'm coming to work hard and bring TheU back to the glory days."