Ahmmon Richards catches for records in 51-28 victory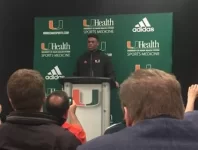 On their opening drive Saturday afternoon Miami needed to make a statement.
After poor offensive showings throughout their 4 game losing streak, the 'Canes needed to put a band-aid on the wound, and get their offense going early.
And on the fourth play of their first drive, Miami did just that. On a 2nd down and 6 at the 45 yard line, Brad Kaaya stretched the ball deep to Ahmmon Richards on a 41 yard dart which put the 'Canes inside the red zone.
[TWEET]794940871942828033[/TWEET]
The Hurricanes picked up a touchdown on that drive thanks to a toss from Brad Kaaya to David Njoku, and Miami opened up an offensive clinic unlike any other game this season.
Kaaya finished the day with 4 passing touchdowns on 356 yards through the air, and connected with Stacy Coley and David Njoku for multiple scores.
But despite the fact that he did not record a touchdown, freshman Ahmmon Richards was as dangerous as any receiver on the field.
The 6'1 speedster burned Pittsburgh's man coverage all day, and led the team with 144 receiving yards on 8 catches.
[TWEET]794944021277904897[/TWEET]
"Ahmmon is a guy that we know can run, we know can track a ball deep, we know can adjust to a deep ball well," Richt said. "He's got a lot of -- he has got a wonderful skillset and is just a smart kid."
Richards brought in several deep balls throughout the game, including a 38 yard reception to open up the 4th quarter which put Miami inside the 10. After a multitude of other receptions including a catch that landed him one yard away from the end zone, Richards found his way into the record books.
[TWEET]794944237980778496[/TWEET]
After his 18 yard per catch performance, Richards broke his own record for most receiving yards in the game by a Miami freshman, beating his previous record by two yards.
"We knew what they were gonna bring so we were just kind of licking our chops," Richards said post game when speaking about the way Pittsburgh was defending them. "We knew we were going to get a shot downfield so it was a good feeling coming into the game knowing that."
Richards and Miami's passing game executed their gameplan to perfection Saturday, and quarterback Brad Kaaya passed for a career high 356 yards through the air. Whether it was Richards catching deep passes or Coley hauling in fade passes, Miami's new uptempo style of offense worked to perfection.
"We actually watched tape of OK State (Oklahoma State) and Virginia Tech and saw that you don't have to hold it long" Richt said. "It's one, two, three, hitch, fire -- or sometimes left, right, throw it. We just placed the ball where our skill guys can make a play, just about everything we schemed up and dialed up had a chance."
With this output Miami's offense has gained otherwise unparalleled momentum, and will now look to find Ahmmon Richards and the rest of the passing game once again at Virginia next week.