2019 target will "do anything" to put his city on the map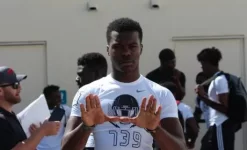 The recruiting process for the class of 2019 is starting to gain momentum, with several top targets committing and others visiting campus.
In 2018 Miami's top wide receiver prospects include the likes of Mark Pope and Brian Hightower, but in 2019, one of the top targets on the board is Doral Academy receiver Brieon Fuller.
Fuller, who is ranked number 102 on the 247 composite rankings, grew up a Miami fan and enjoyed his junior day visit two weeks ago.
"It was good," Fuller said. "It was awesome, they showed us around the school, it was pretty great."
Junior day wasn't Fuller's first visit on campus, and says he became accustomed to the campus at his former high school.
"Since I was at Champagnat we've been visiting campus," Fuller said. "We went on a field trip and we did a lot of stuff with them. This year I'm gonna go back and visit ."
Fuller says his relationship is "starting to develop" with Miami's coaches, and already feels at home with Coach Rumph and Coach Brown.
"Thats a good relationship," Fuller said. "They talk to me like I'm one of their sons."
Miami isn't the only team going after Fuller though, the 6'1" receiver has also fielded attention from other power 5 schools.
"UM, Syracuse, Kentucky, and Georgia are talking to me the most right now," Fuller said.
But Fuller believes there is something unique for him about Miami, due to the fact that he has been a fan of them since he was a kid.
"Since I was a shorty," Fuller said. "That was my favorite school since I was a shorty. If I go it would feel great. The fans and all that would be amazing, it's great."
Fuller's drive at Miami would also be special, as he would set to accomplish his greatest goal.
"I'll do anything to put my city back on the map, anything."