2019 OL Lucas will meet with Searels next week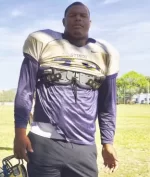 2019 Miami High OL Dontae Lucas has already been established as a top five player on UM's board for next class. The big man has been around Miami's campus multiple times this summer. He made the trip up to Gainesville for FNL and will not be back in time for Paradise Camp, but Lucas already has a visit planned to UM campus next week with his mother to meet with Canes OL coach Stacy Searels.
He is a prospect that Miami would like to get on board as soon as they can.