2019 Keontra Smith; The next great South Florida DB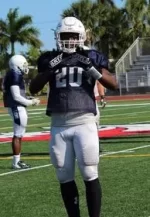 South Florida is known for producing some of the best defensive backs in nation in every recruiting cycle; and 2019 Chaminade-Madonna SS Keontra Smith (6'0 200) is the next in line to fit that mold.
Smith started every game as a freshman for the Lions, recording 39 tackles, 3 sacks & 1 interception. Despite his youth and relative inexperience as a sophomore; however, Smith has elevated his expectation for the upcoming season.
"I'm a competitor………… I'm nasty" Smith said "My goal is to have four interceptions this season; I know I'm going to have big hits, so i'll have some force fumbles too."
Smith has offers from six schools: Indiana, Auburn, Bowling Green, Temple, Louisville & FAU. Despite all the attention; however, Smith says there's one school he wouldn't pass up on.
"If Miami offered i'd have them at, who knows I might even commit. My family loves Miami, everyone i know wants me to stay home and play for Miami." "Miami is the school for me."
New HC Mark Richt has brought some energy back into South Florida, focusing on the old Howard Schnellenberger philosophy. "Win the state of Miami"
"I love what Coach Richt is doing, he's recruiting all the top local kids," Smith said. "He wants all his players to become successful in life, I just love his overall plan."
Cornerbacks coach Mike Rumph visited Chaminade-Madonna for their spring game this past month, and spoke with Smith about Miami
"Coach Rumph said I'm very young and i still need to develop more. I think the offer will come soon."
Smith has never visited Miami before, & he's looking forward to coming down to the campus with his family."
"I'm attending Mark Richt football camp and I'm hoping i can see the school as well."
Freshman Highlights - Keontra Smith highlights - Hudl