2018 OL commit loves staff's "SEC mentality"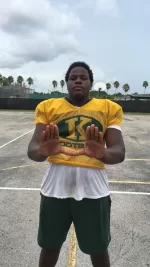 2018 Killian OL Delone "D.J." Scaife committed to the University of Miami last month. The Canes offered him back in April and he did not wait long to make his pledge.
"The reason why I committed to Miami was because that was my dream school since ninth grade," Scaife said." A couple teammates went there and it's my hometown."
The "teammates" that Scaife was alluding to are current Hurricanes JaQuan Johnson and Sheldrick Redwine. Scaife was a freshman at Killian when Redwine and Johnson were seniors.
"They never stopped working. They never settled – they just kept on working and they had the dog in them. They always wanted to get better," Scaife explained.
Randal "Thrill" Hill and Lamar Miller are two former Canes who are products of "The K". How important is it for Miami to continue a pipeline at Killian? As head coach Javi Valdes pointed out, a 2014 article on maxpreps.com listed the Cougars as having produced the 9th-most NFL draft picks for a high school.
Scaife's decision was not only easy for him to make, but his family completely embraced it as well.
"My grandma loved it because she's overprotective and doesn't want me going fa away. My mom was happy too because obviously your mom doesn't want you to go away! And my dad was happy because he's a Hurricanes – same with my grandpa and cousins," he said.
Mark Richt and his staff have made an early impact on the junior lineman. "They're organized," Scaife said. "I see that they're bringing over that SEC mentality and I just see that they are staying on the players and not letting them slack."
"Coach Searels is great. He is big on hand placement and footwork."
Killian coach Javi Valdes calls Scaife an "all-american caliber player" and believes he will be a 30-plus offer prospect.
[TWEET]768559722890948608[/TWEET]
[TWEET]768561798605893632[/TWEET]
My take
: From watching a practice at Killian and seeing Scaife earlier this summer at Paradise Camp, Miami got a really good interior lineman in Scaife. He is not technically sound just yet, but once he puts it all together you have to love his athleticism and raw strength inside. His coaches believe he can become an elite center, which is such an asset to have offensively.