2018 Mark Pope "Who wouldn't want to play in their hometown"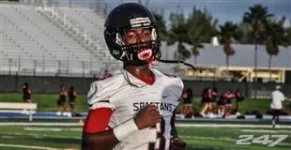 Photo Credit: Miami247
Miami Southridge has over 15+ division one prospects on their team, but there's one that has college coaches drooling for next recruiting cycle -- 2018 wide receiver Mark Pope.
"Mark is the type of player that can change the game with one play." said Southridge HC Billy Rolle "He's such a high energy guy, his teammates love and respect him."
Pope has every school in the nation after him, but there's three school that have separated themselves from the rest
"Florida, Miami and Alabama are the three schools recruiting me the hardest right now." Pope said
Here are his thoughts on all three:
Miami
"Miami is home, I have a great relationship with all of the coaches, especially coach Dugans. I'm always visiting and attending the games and who wouldn't want to play in their hometown?"
Alabama
"Alabama is home away from home, I like how they use their wide receivers (Amari Cooper, Calvin Ridley). They're saying i could be the next man up of the great wide receivers they've gotten from south florida (Amari Cooper, Calvin Ridley and Jerry Jeudy) and it's Alabama, they're the hottest team right now."
Florida
Florida is sort of the same with Miami in the whole family environment. I have a great relationship with their wide receivers coach and coach MacElwain."
Speaking of Miami wide receivers coach Ron Dugans, Pope and Dugans have built a pretty special relationship
"That's my guy," said Pope "He's always checking up on me like I'm one of his sons, he done a great job with the Miami receivers (Ahmonn Richards to be specific). He's telling me I would be able to come in and play right away."
Pope has teammate's who are both committed to Florida and Miami, but he says it doesn't effect his recruitment
"They know that I'm going to do my thing, Billy (UM) Daquris (UM) and Kemore (UF) are always in my ear about the schools they're committed to. I ask them how i would look in their respected uniforms."
Pope has a prediction on how the Canes will finish the season
"I think the Canes win big tomorrow and i think they finish the season with five straight wins."