2017 Carol City LB has Miami on top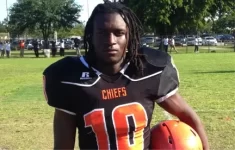 Carol City has always been a breeding ground for top talent in South Florida. After Miramar began to poach the area over the last ten or so years, it seems like the Chiefs are back to reloading with division-1 talent.
2017 LB DeAndre Wilder (6-2, 205) will be one to watch over the next year as he already has offers from the likes of Alabama, LSU, and Miami. The hometown Hurricanes seem to hold the early edge for him.
"UM is sticking out the most. They just tell me to keep in touch and stay close to home because they want me to be a UM commit," said Wilder.
How close has Wilder been to pulling the trigger on a Miami commitment?
"I've thought about it a lot."
At least one member of Wilder's family is trying to get him to stay in Miami.
"My auntie told me she wants me to stay here because she loves me too much."
Hurlie Brown has been his main recruiter up to this point.
"I get a cool vibe from Coach Brown. I was chilling with him on campus and he tells me I'm the man and stuff like that."
Wilder likes what he has seen from his Carol City team this spring, but he knows they are capable of much more.
"We look pretty good, but it's too many people just joking around so we need to become more physical on the football field."
**Wilder runs a 10.8 in the 100 M dash. He also competes in the 4 X 100.