2017 Billy Gibson "I'm 100% committed to Miami"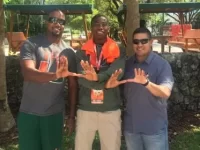 "Let's go Billy, that's what I'm talking about," said UF commit Kemore Gamble after Billy Gibson made a key stop on third down in Miami Southridge's 26-10 victory over Coral Gables.
"I'm a ball hawk," said Billy Gibson "Where ever the ball is, I'm running towards and I'm going to make a play."
Gibson was a key contributor to Southridge's dominating defensive performance yesterday against Coral Gables as he came up with multiple tackles and pass breakups throughout the game.
"Our defense hasn't allowed a point in seven games, so I was trying everything in my power to make sure that streak continued."
With the win over Coral Gables, Southridge will now travel up to Broward county and face Deerfield Beach, the home of 5-star wide receiver Jerry Jeudy.
"It's going to be a very good game," said Gibson. "I'm not really worried about facing Jerry, because in practice we go up against some of the best wide receivers in the nation. Yes, Jerry is a very good player, but this defense and this secondary is one word --
Lockdown
."
Now on the recruiting trail -- Gibson has been committed to Miami for over 8 months and the chance of him defecting from this class is very slim.
"I'm 100% committed to Miami. I have great relationship with everyone on the coaching staff, team, etc."
With Gibson being committed to Miami for so long, he's developed a good relationship with most of the recruits.
"I've been playing football with Trajan Bandy since I was little kid, so me and him are really good friends. I talk to Deejay Dallas the most. He's always checking in on everyone and making sure were all 100%."
Gibson has expressed his excitement about this year's defensive back class and the overall potential it has.
"With me, Trajan, Amari, DeeJay already committed, and the chance to add guys like C.J. Henderson and Antwan Collier, they would call us DBU if everyone comes."
Billy has a special message to Canes fans:
"I'm ready to come in and help the U get back to the glory days. Stay tuned we'll be back."