2017 Antwan Collier "I would commit on the spot."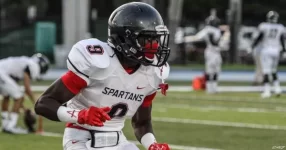 Photo Credit: Miami247
"Put in AC, Put in AC." that was the chant on the Southridge sideline when Miami Southridge HC Billy Rolle put in QB Michael Cox, Jr. after Antwan Collier had thrown a touchdown pass to 2018 Miami commit Daquris Wiggins in the end zone to give Southridge a 7-0 lead over Coral Gables.
"He can do so many different things for this team." said Southridge HC Billy Rolle. "His leadership and his demeanor is truly amazing."
The former Illinois commit Collier was targeted two times yesterday on defense, the results -- zero catches for zero yards.
"I was just trying to help my team win," said Collier. "I didn't want to be the one to allow a touchdown and let my team down."
Southridge's streak of seven games of not allowing a single point was snapped yesterday when Coral Gables kicked a 33-yard field goal.
"I'm proud of how we played, regardless if we allowed a point. We all wanted one thing and one thing only and that's to have practice on monday and win a state championship," Collier added.
Now to recruiting -- Miami has slowly worked their way to "almost" securing a commitment from Antwan Collier, but the hometown Hurricanes still haven't offered the 6'3 178 pound CB/S.
"I feel the offer is coming. the Miami coaches are always checking in on me. I feel that my play shows everything and I know i can compete in that level."
Collier has built a good relationship with the Miami coaching staff, but in particular, coach Ephraim Banda.
"The coaches tell me to come to the games and I usually go with Billy Gibson and Mark Pope (two prospects that Miami is recruiting heavily.) Coach Banda is a cool guy, he's always want what's best for his players and players he's recruiting."
Collier has a great relationship with current players on the Miami roster and he's built a great relationship with some of Miami's 2017 commits
"When I was at Killian, I would always want to play in college with Jaquan Johnson and Sheldrick Redwine. We would always say "TheKtoTheU", so hopefully i can play with those guys again. I've been friends with Trajan Bandy for a while now, we're always talking about Miami and how much he wants me to play with him in college."
"If I get the offer, I'm going to commit on the spot. Who wouldn't want to play in front of their friends, family and play for the team you grew up rooting for?"