2016 LB Sutton has interest in Canes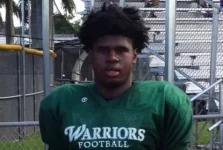 2016 prospect James "Trey" Sutton III has been a highly productive pass rusher for Westminster Christian over the past two years. Now he is being faced with a task that should help his recruitment take off: switching from defensive end to linebacker.
"I'm getting used to it now because I normally play D-End, but it is going really good. I'm just trying to help the team wherever I can. Losing two All-Americans like Tim and Jordan is big so everyone just needs to step up," said Sutton.
The 6-1, 210 pounder describes himself as "explosive, having a quick first step, and a finisher". At the moment he holds offers from Colorado State, USF, Alcorn State, Georgia State, and Jacksonville State.
Sutton says that South Carolina, Memphis, Miami, and Florida have all been keeping tabs on him this spring as well. His father, James, played linebacker at Miami in the late 90s.
"It would mean a lot to me for Miami to offer. I talk to Coach Hurlie Brown on-and-off. He asks how I'm doing and stuff. He says he loves my film so I'm waiting to hear from him."
The twitchy pass rusher has plans to visit Colorado State over the summer and says he will participate in some camps as well.
Sutton lists education, playing time, natural feel at the school as the three most important things in his recruitment.
Highlights -
http://www.hudl.com/athlete/2156589/highlights/186173376/v2