2016 ATH Raine turning heads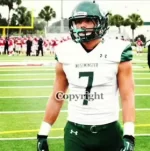 Westminster Christian is quietly becoming a school that produces division-1 talent each recruiting cycle. Next up for the Warriors is 2016 Jumbo ATH John Raine (6-3, 235), who has an interesting story.
Born to Jamaican and English parents, Raine is originally from Miami was raised in Boston before moving back down to South Florida for his 10th grade year at WCS. Raine played multiple sports growing up including basketball, soccer, lacrosse, and football.
"When I was younger, basketball was probably my best sport but now it is football. I can take a lot of the speed and agility from basketball and use it in my route running. Lacrosse is very physical with the one-on-ones. Soccer helped me with running people down," Raine said.
Last week at the Pylon 7-on-7 tournament, Raine made noise playing for the Fire South team and was one of the stars of the weekend. Raine's versatility is a major part of his game.
"I see myself as a tight end and fullback with sure hands and the ability to catch balls and make key blocks."
Mississippi State, Duke, BC, UF, Ohio State, Miami and a few others are schools that Raine has already had contact with.
"I definitely want to go to a good academic school and I want to be able to play in a big conference like the ACC or something like that."
Raine had the opportunity to attend Miami practice on Saturday morning and gave a quick synopsis on what he saw.
"I loved the tempo of the practice and how the coaches weren't treating the players like stars. They were humbling them."
The Westminster rising prospect said he would "100%" consider Miami if offered.
"I talked to the tight end coach (Larry Scott) and he said they would be taking a look at me. I loved the coach and the drills they were doing."