Miami vs. Dook Game Preview (via @HardwoodU)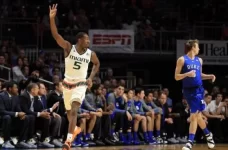 Cameron Indoor Stadium
is known as one of the toughest venues for a visiting team to come away with a win. That is, unless your name is
Jim Larranaga
. Coach Larranaga has led
Miami
to a
4-2 record
against the
Blue Devils
during his tenure, and Miami is
one of two schools
to record more than one win in Cameron during that time (UNC).
Both Miami (12-5, 2-3 ACC) and
[URL=https://www.canesinsight.com/usertag.php?do=list&action=hash&hash=1]#1
8[/URL] Duke (14-4, 2-3 ACC) are looking to reverse their recent trend. Miami has gone 1-3 in the past 2 weeks, with losses against
Syracuse
,
Notre Dame
, and most recently
Wake Forest
(the lone win coming against Pittsburgh). The Wake Forest loss was a brutal one, as an ACC opponent who had a lone conference win against
Boston College
thoroughly dominated Miami.
Meanwhile, Duke is coming off of back-to-back road losses at
Florida State
and at
Louisville
, in addition to losing their conference opener at
Virginia Tech
. Duke is now 0-3 in ACC play on the road, and 2-0 in ACC play in Durham (albeit against weaker opponents). Both of these teams are desperate to come away with a win to even their ACC record and turn their season around, and being featured on
ESPN's College Gameday
just adds to the prestige.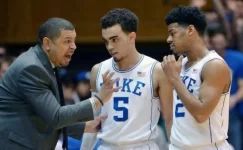 Opponent Breakdown
The Duke Blue Devils
(RPI 15)
come into Saturday night's matchup with an ACC record of2-3.
Jeff Capel
is the acting head coach as
Coach K
continues to recover from surgery. He led them to 2 home victories over ACC perennial bottom dwellers Boston College and
Georgia Tech
, but was unable to continue the winning ways at Florida State and at Louisville. As strange as it is, the Hurricanes and Blue Devils have only one common opponent so far this year, the
Florida Gators
. While Miami was unable to pull off the neutral site victory, the healthy Blue Devils came away with a 10pt victory.
This year's Duke squad is among the best in the nation at
scoring margin,
3-pt defense
, and
free throws percentage
. After sitting out both games against Florida State, it looks like the ACC's leading rebounder,
Amile Jefferson
, will remain sidelined with a foot injury (day-to-day). With a team that stifles opponents from beyond the arc, they are forced to rely on their big men to pick up a huge lapse in the paint. Many of you know
Grayson Allen
for
being a total
, but what you may not know is you are absolutely right. In addition to being the scum of the earth, he also averaged 15.7 ppg and 4.3 apg.
Sophomore guard
Luke Kennard
is still the most dangerous member of this Blue Devils squad. He is averaging 20.2 ppg, shooting 53% from the field and 87% from the line. Freshman forward
Jayson Tatum
adds 16.8 ppg and is the best active Duke rebounder, bringing down 6.6 boards per game. Senior guard
Matt Jones
is one of the ACC leaders in steals, averages 8.2 ppg, and continues to live in the shadow of his sister Jordan Jones, All-American at Texas A&M. The starting five is rounded out by freshman forward and One Direction impersonator
Harry Giles
, who was the consensus
#1
high school recruit in the Class of 2016, but has continued to hurt his draft stock, averaging 5.6 ppg and 5 rpg.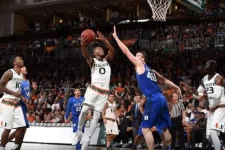 What to Watch For
Grayson Allen shenanigans
. Because it doesn't matter if the play is dead, you're on the bench, or you're a fan in the stands…
NOTHING STOPS THE WRATH OF A SPOILED WHITE KID.
But in all seriousness, senior
Davon Reed
has been on fire as of late, netting 18+ points in 4 of the 5 ACC contests. He was arguably the lone bright spot for the Hurricanes in their loss at Wake Forest, scoring 24 points (3-8 3pt) while adding 3 rebound, 4 assists, and going 5-5 from the free throw line. Meanwhile, senior
Ja'Quan Newton
is playing in an uncomfortable role, and it is starting to show. During ACC play, he has an assist-to-turnover ratio of 1, to go along with a FT% of 58%. If Miami wants to win basketball games, their starting point guard needs to take a page out of the
Katie Meier
playbook and focus on the fundamentals.
Freshman
Bruce Brown
is also showing why he was a top recruit, matching up against some of the top performers in the ACC and carrying his own. He has scored 17 points in both of Miami's ACC wins, and has been on the court for over 30 minutes in all but one ACC contest. Freshman
Dewan Huell
is on the other end of the spectrum, averaging about 4ppg and 3rpg in conference play, in large part due to a 9 point, 8 board performance against Wake Forest. Hopefully Wake was the Wake-Up Call (pun absolutely intended) to show Huell he can stand up to the tougher competition in the league.
Miami is
dead last in the ACC
with an assist-to-turnover ratio of
.91
and
second to last
in free throws made with 283. On the positive side, the Canes are among
nation's best
in rebounding, scoring defense, and fouls committed. Coach Larranaga has continued to praise the defensive effort from Kamari Murphy. The performance from the Oklahoma State transfer is in large part a reason why the Canes have the
second best rebounding margin
in the ACC. Once Huell starts to familiarize himself with the level of play, and
Ebuka Izundu
can correct one of the most ridiculous statistical anomalies in the country (committing a foul approximately every 3:40 he is on the court), the Canes won't need a dominant offensive performance every game to pull off the victory. With Jefferson out, the inside presence of the Miami big men going up against Tatum and Giles will be a major key to upsetting the Blue Devils and ****ing off a bunch of
trust fund "Crazies"
.
RPI Battle
Miami beat
NC State
(RPI 49) pretty handily, and pulled off a dominant performance at
Pittsburgh
(RPI 41). However, the Canes were unable to pick up a win over
Notre Dame
(RPI 18) at the Watsco Center, and missed an opportunity to beat a surprisingly high
Wake Forest
(RPI 25) team on the road. The Canes were able to avoid poor RPI losses, their worst coming at
Syracuse
(RPI 123), but the committee will want to see them pick up quality wins or else they're on the wrong side of the bubble. No game will qualify as a must win until the ACC tournament, especially with 8 potentially ranked opponents still on the regular season slate, but Miami needs to kick it into an extra gear sooner rather than later.
How to Watch
When:
Saturday, January 21, 2017 at 8:15pm
Where:
Cameron Indoor Stadium
TV:
ESPN
Stream:
WatchESPN.com
Tweets:
@HardwoodU