2019 ATH Mark-Antony Richards updates his recruitment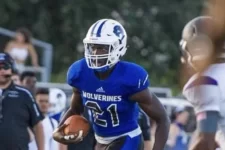 Wellington HS ATH Mark-Antony Richards was without a doubt one of the most unstoppable players in the state of Florida this season as a junior. The younger brother of Miami receiver Ahmmon Richards is out to make his own name and proved just that by compiling 2,136 all-purpose yards, 56 tackles, 2 INTs, FF, sack, and 8 TDs.
"I would say the biggest thing I improved on was my knowledge because I had never played safety before. My sophomore year was the first time I ever really played defense seriously, so I learned about coverages this season," Richards said. "On the offensive side of the ball, catching was a big thing that I worked on throughout the offseason. The best thing is to have a running back who can catch the ball out of the backfield and I'm a receiver who is sure-handed."
As Richards said, he had previously excelled as a running back and wide out, but his success in the defensive backfield opened his eyes to what could be his highest ceiling.
"It was kinda shocking to get a few offers on defense because I wasn't sure if I would be playing that in college. When the offers start coming in, you realize how good you could be at it and it's something I'm going to continue working on and see how far I can go with it," he explained.
Rivals has Richards slotted as the
#22
player in the country,
#4
in the state, and
#3
ATH, ESPN has him as an unranked 3-star prospect and 247sports rates him the 95th overall player for his class. It's a mixed bag of rankings, but one thing is for certain – it's all added motivation for the breakout star.
"I feel underrated because you work so hard and put in the extra reps and long hours to get the recognition you deserve. I kinda play with a chip on my shoulder because of it, but I'm thankful; because it's helped me take it to the next level and push myself when I go up against some of the top guys in the country in camps and all that," Richards said.
"It's really something I can't control, though, so I'm just going to keep focusing on what I have control over," he added.
Richards says that some programs are recruiting him as a safety, some as a receiver, and others on both sides of the football. Two schools in particular have the longest-standing relationship with the versatile West Palm Beach product.
"I would say Auburn and Miami because those are schools that have recruited me for some time – I can definitely say that," he said. "Coach Dugans and Coach Brown have been on me for a long time."
There has not been much speculation where the younger Richards is leaning – largely in part to the fact that Ahmmon's advice has been to be patient with his decision.
"The one thing he taught me is that you can't really rush the process. He committed to Miami his junior year and then decommitted due to coaching changes and all that, so that's one of the reasons I didn't commit this year," Richards explained. "I wanted to kind of sit back this year and see what goes on, so I'm glad I'm did it. That was one of the things he (Ahmmon) preached to me a lot."
Miami coach Mark Richt has been involved in Richards' recruitment early on.
"He speaks family. He's a good person just like the rest of the staff. With them, it's about more than just football and they talk about how they can develop you as a person outside of football, so I really respect that about them," Richards said of Richt and Miami's staff.
"From what I saw being at the Notre Dame and Virginia Tech games, the attendance was great," he said. "People on Twitter would tell me nobody goes to Miami games and say they could count the seats in the stands, but the fan base was electric and amazing this season."
Richards added that he could make his decision most likely any time between summer and December, but that is subject-to-change. He wants to see Ohio State, Florida, and Notre Dame in the coming months as well.
[HUDL]video/3/5643528/58e69b7ec11a090b500a69e1[/HUDL]