2018 Northwestern DL McCrae one to watch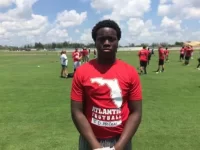 Miami Northwestern's resurgent season led them to the playoffs in one of the country's toughest districts. Along with their winning, the Bulls also seem back to their ways of producing countless division-1 prospects each cycle -- and they are only getting stronger.
Meet Davontae McCrae, a recent 2018 defensive line transfer from Jackson whose massive 6-5, 260-pound frame has college coaches excited about what he could become with some fine tuning. This was actually his first season playing on the defensive side of the ball, as he played center year and left tackle 10th grade.
"I try to use my strength and arm length to give myself an advantage," McCrae said. "My size helps me a lot because when I get put at end, they expect me to just over power them, but I can mix it up with some speed. When I'm inside at the high school level right now, there's not really anybody who can bring my speed and strength at this size, so it helps a lot."
McCrae's film shows that he has played both tackle and end on the line. That versatility could play a role in his recruitment. So what does he prefer playing?
[HUDL]video/3/6530969/581e5d59688ec4e4a42c9bd6[/HUDL]
"It depends on the team, really. If it's a passing team, I want to be at end. If it's a running team, I like playing inside so I can make more plays," McCrae said.
The junior prospect said that coaches are encouraging him to play basketball for endurance and to compete in shot put and discuss to help his "upper body strength and explosiveness" as well as "learning how to turn my hips a certain way and move my feet". McCrae knows that people see his size already, but he believes he can show them that he's more than just a big body.
"I want to be able to use more speed and show more speed in my game," he said. "I want to show that I can move around better and use my hands faster."
When it comes to recruiting, McCrae was a former Louisville commit who recently opened his recruitment back up. He said he decommitted because "the communication started to get dry" and he didn't feel like he was a top priority for them.
McCrae added that five schools sticking out to him are Miami, Georgia, Florida, FSU, and Texas A&M. He explained why the Hurricanes have caught his attention.
"They have a lot of good kids coming this year, and next year it's going to be even more," he said. "I like Harley because he just has speed and it's fun to watch him play. Jeff Thomas, just get him the ball and let him run around and make a play."
"They got Navaughn Donaldson, who was the best tackle I went against this year."
McCrae said that his family is not opposed to him leaving the area, but that if the Canes came calling that it would be a difficult opportunity to turn down.
"My mom knows that if Miami offers that I will be very interested because they take care of their kids and I would get a great education."