Young Canes linebackers shining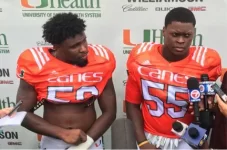 The Miami Hurricanes have trotted out three true freshmen at the starting linebacker spots in each of the first two games of the season. For Canes fans, this was an odd sight and one that had many questioning 'could the depth be THAT bad?'
As those same fans have noticed during the last two weeks, the trio of Shaquille Quarterman, Michael Pinckney, and Zach McCloud oozes of talent – and they have been ready to play on this stage for some time. But did they actually believe that they would all be starting week one of their freshman seasons?
"That was always the plan," said Shaq Quarterman. "We would always talk about it to each other – that it would be great to be on the field together at the same time."
Pinckney, who lead the Canes in tackles with 9 last week against FAU, echoed Quarterman's thoughts."
"When the first game came, I told him (Shaq) we here now. We are just finally here. It's just a blessing. You've got to thank God in situations like this," he said.
Pinckney and Quarterman both played high school football in the Jacksonville area, which brought them together during the recruiting process.
"I came to some of his games and he came to some of mine and we would always talk about doing what were doing now," Quarterman said. "The fact that we have a chance to do it now is just a testament to our hard work."
Quarterman said he told Pinckney and McCloud, 'Let's not just be regular freshmen. Let's go in there and make a splash, make a big bang.'
One thing that has caught Canes' fans attention early in the season is the passion that Pinckney exudes on the field. Wearing the orange and green is something that has deep meaning for Pinckney, who lived the early part of his life in Carol City.
"I'm from Miami. I had a Miami jersey since when I was out the womb, basically," he said.
"Being a Hurricane, to us, is being somebody that's dominant. We've been talking about this since like ninth grade we've been committed – ninth, tenth grade."
Zach McCloud hasn't received the same recognition as the other two freshmen just yet, but his physical attributes are probably the best of the three. And we have yet to see the best of McCloud, as he continues to get his shoulder to full strength. He missed time his senior year of high school with a shoulder injury that limited him early on at Miami and he told reporters today, "it's still weaker, but it's not painful."
McCloud said he felt more at ease in week two as opposed to the season opener against FAMU.
"I got to drop my shoulders and relax. I think I made more plays, for sure, but it felt more natural," he explained.
The biggest adjustment to college, according to Quarterman, was understanding the meaning of representing the University of Miami.
"We had to learn about the standard of being a Hurricane, but once we did…you have to play to that standard everyday. You can't be up one day then go down and consider yourself a Hurricane. You just try to keep up to the standard."
"We've got to work harder than anybody else and hold up the standard of the guys who came before us," McCloud added.
This weekend's game against Appalachian State will be a noon kickoff on ESPN – the first time this season that Miami will play a nationally broadcasted game.
"It's a game that's televised. Ain't no difference to us. We just gonna do our job and come out victorious," Pinckney said.
"They are a great team, but we are the Miami Hurricanes. We plan on going in there and doing what we're supposed to do, no matter what team they face," Quarterman added.
"I think we are going to be very well-prepared for it. The coaches are coaching us up right and our level of play should only go up from here," McCloud said.
A key to the early success of the young linebackers has been Manny Diaz's ability to harness their talent and put them in position to be around the football.
"We have tons of freedom, but there's still order. It's not a strict 'you have to be here or have to be there', but every single play there's something we can adjust ourselves. There's a gap every is supposed to be in and run and hit people in that gap," Zach McCloud said.
Pinckney knows that this week is a step up after facing FAMU and FAU the first two games.
"We're doing alright. We haven't really played any competition, but we handled it like we were supposed to. We dominated so that's just a blessing. Appalachian State is no different."