Will Barnes talks Miami after junior day visit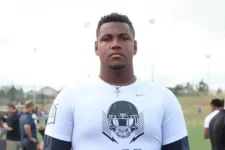 At 6'4" William Barnes has dominated on the line throughout his four years at Apopka.
Barnes attended Miami's junior day this past weekend, and says the visit only strengthened his chances.
"Every time I go there it just opens my eyes even more," Barnes said. "Seeing all the stuff they have education wise and just football too with the facilities."
While on campus, Barnes said he feels a family environment with the coaches. And as Barnes enters his senior season, the lineman says his relationship with Coach Stacy Searels goes beyond the field.
"Definitely a great one," Barnes said. "I text him from time to time about how my day went sometimes, you know just to talk about football or whatever."
"Sometimes it is not all about football. Sometimes you want to build a relationship. Football can build a relationship, but definitely talking about other things can build more of a relationship."
Barnes visited campus with several other Apopka players such as Steve Larson Jr., who has been recruiting him to Coral Gables.
"He [steve larson] has been definitely telling me about the school," Barnes said. "And every time he tells me I like Miami more and more."
Larson's recruiting is just part of the narrative Miami is creating on the trail, as they are using positive momentum to get more prospects.
"Seeing all the people that are committing to that school definitely shows what kinds of things they have going on over there so that definitely alters my choices," Barnes said.
Barnes likes the idea of blocking for Lingard and other 2018 recruits, but still does not have a short list.
"No, not really," Barnes said. "Just still looking around. Just looking at these schools, being blessed to go around and check these schools out. "
Barnes says he has developed a good relationship with many other coaches on the trail, and is being heavily recruited by many of Miami's rivals.
"North Carolina, definitely, they are always on me, I'm always talking to coach," Barnes said. "Florida, you know Brad Davis, I'm always talking to him a lot. Also FSU, those are some schools that are looking at me a lot, and Auburn as well."
Barnes will be releasing is short list "probably near summer," and plans on visiting Miami once again on another day for a spring game or practice.
Although 'Canes fans are reaping the benefits of early commitments, Barnes' decision will likely come down next year.
"I plan on maybe doing my official visits, a few during the season, a few after the season, but I definitely plan on signing on signing day."