Walton and Yearby look to continue success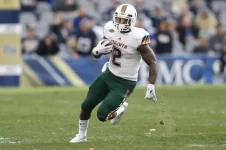 Miami's rushing attack has powered the Canes in the first two games against FAMU and Florida Atlantic. Mark Richt will need his ball carriers to have another standout performance on the road this weekend against Appalachian State.
Sophomore Mark Walton and junior Joseph Yearby have spearheaded the ground game for the Hurricanes, each having gone for 100 yards in the first two games. Gus Edwards also got over the century-mark in the season opener against the Rattlers.
[TWEET]775895508946718721[/TWEET]
"We take a lot of pride in it. That's what I came here for – to run the ball. All the great running backs came before us and we all enjoy when our number is called and we come in the game," said Walton.
Some Canes fans have worried about a potential letdown this week, but there has not been any signs of that this week in Coral Gables. The Miami players seem to be respecting their opponent, especially considering it is the first road game of the season.
Walton, who scored four times for the Canes last week, knows that App State won't be easy pickins'.
"It's going to be one of the tougher environments that we will be in this year," Walton said. "It's going to be a huge crowd up there and one for the largest things in their hometown."
"As a team, we enjoy it. We just have to come through a lot of adversity," he added.
Joseph Yearby led Miami in carries last game with 20. He assessed what he's seen from the Mountaineers on film.
"They like to bring a lot of field pressure. Those guys are tough – they're very disciplined and they're going to come to play," the Miami Central product Yearby said.
"They swarm to the ball. All eleven guys try to get there at once."
Both Walton and Yearby believe that it's only a matter of time before their success opens the door for Brad Kaaya to put up some big numbers.
Walton explained where he thinks Kaaya's struggles from last weekend came from.
"I think that's because they key on him and that makes it even easier for us. Now that they've seen we can run the ball, they'll probably try to stop the run in this game," he said.
Yearby echoed Walton's thoughts.
"Going into the game knowing that we have two running backs who can run the ball, it can open up the pass game for the quarterback and receivers," Yearby said.