Videos and notes from Tuesday practice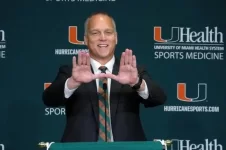 [TWEET]785833466680188928[/TWEET]
Brad Kaaya - The FSU game left Kaaya banged up. The damage to him was done on the first play from scrimmage when Kaaya was slammed to the ground and landed on his throwing shoulder. A vicious helmet-to-helmet blow by Noles linebacker Matthew Thomas also knocked him around. They will limit Kaaya a bit in practice this week, but he was throwing today and will not miss time. Kaaya was not made available to the media today.
Stacy Coley - The senior receiver had a strong performance against the Noles with two scores -- the downside is that he came out of the game with a minor left knee sprain. He was practicing today with a mobile brace on and is expected to play on Saturday so we will see how that affects his play this weekend.
Sunny Odogwu - It's unfortunate, but what's happening to Odogwu right now is what some internally feared coming into this season. The redshirt junior has suffered a couple knee injuries over the past few years that have made it tough for him to fully recover long-term. On Saturday night, he underwent a lower leg injury and will have surgery tomorrow. Odogwu could miss a chunk of time here. Sophomore Tyree St. Louis will need to step up in his absence.
Chad Thomas - Was at practice today with a club on his right hand. He is not expected to miss any game time with the broken hand (similarly to Trent Harris this season).
Gerald Willis - Willis recorded a sack on FSU QB Sean Maguire. He did, however need to leave the game with a heavy limp and help from the training staff. He was not at practice today and it is a knee injury, but it does not appear to be a long-term issue.
Shaq Quarterman - Shoulder injury, but practiced today and a source said he will play this week.
**Canes kicker Michael Badgley spoke to the media for about two minutes today. Full video below:
[TWEET]785863889141522432[/TWEET]
**Miami offensive coordinator Thomas Brown certainly did not seem to agree with the holding penalty on Mark Walton's touchdown that was called back. Full video below"
[TWEET]785867815303671813[/TWEET]
**In Richt's message to the team after the stretch, he stressed the importance of every single play in the game. He mentioned the blocked extra point in specific and said that is not a play that they can take for granted.
**The Canes had a special visitor in attendance today -- school president Julio Frenk, who addressed the team after their stretch today.
[TWEET]785833702286827521[/TWEET]
[TWEET]785835003393564677[/TWEET]